Disney's 'Shake It Up' Star Caroline Sunshine Joins Trump's Press Team
Former Disney Channel star Caroline Sunshine is leaving show business to start a career in politics: She was recently hired by President Trump's White House to be a press assistant.
The 22-year-old is best known for her role as teen dancer Tinka Hessenheffer on Shake It Up, alongside fellow Disney stars Zendaya and Bella Thorne. The show ran from 2010 to 2013, and during that time, Sunshine also appeared in the movie, Marmaduke.
See Also
Nothing is impossible for Kim Possible—that includes a movie reboot.
"Caroline Sunshine was a White House intern. In college, she was involved with the American Enterprise Institute and an active member of her school's Model United Nations team. Prior to her internship at the White House, Caroline interned for the Office of House Majority Leader Kevin McCarthy, the College Republican National Committee and the California Republican Party," Lindsay Walters, a White House spokeswoman, revealed CNN in a statement.
Obviously, Twitter has a few jokes to make about the announcement:
When Caroline Sunshine played a Russian exchange student on Shake it Up and now is joining the White House press team. This is too funny!

— Kate K. Farrell (@katekf830) March 27, 2018
Trump added 22 year old Disney star, Caroline Sunshine (Loved her as a little kid), to the White House press team. At this point Trump's just purposefully appointing anybody with little experience to make himself feel better for having no experience either.

— Carlos (@blazingxmexican) March 28, 2018
Can't wait until President Trump fires former Disney Channel actress Caroline Sunshine from his press office just to see the headline "Ain't No Sunshine When She's Gone"

— Rick Aaron (@RickAaron) March 28, 2018
Stormy Daniels and Caroline Sunshine sound like character names from the first draft of a bad pilot about meteorologists.

— Bryan Yang (@bryanyang) March 28, 2018
Watch Sunshine in a clip from her show:
And in a music video: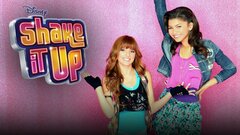 Powered by