'Fear the Walking Dead' Star Lennie James Teases Character's Journey in Season 4
"You can hide but you can't run," says, well, someone to The Walking Dead's steely Morgan Jones (Lennie James) as he makes his much-anticipated debut in the drama's spinoff. (Fear's fourth season kicks off immediately following tonight's Walking Dead finale.)
And, sorry, our lips are also sealed as to how or why the bo staff–wielding fan favorite moves from one part of the postapocalyptic landscape (Georgia) to another (Mexico and Texas).
However, despite the secrecy surrounding Morgan's crossover, that one line of dialogue indicates an unmistakable truth: The danger is still very real.
Fresh Meat
Thankfully for James, he's not the sole new face in the cast: Fear welcomes Jenna Elfman as guarded Naomi, Garret Dillahunt as gentle John Dorie and Lost's Maggie Grace as savvy Althea.
"It's taken some of the pressure off me that there are other characters for the fans to sink their teeth into," James explains. Co-showrunners Andrew Chambliss and Ian Goldberg (both from Once Upon a Time) have stepped in as part of a larger-scale reworking of the show involving a more cinematic look and possible time jumps.
Future Tense
While Morgan's current chapter seems to be rapidly nearing a boiling point ("He doesn't believe there is any peace for him or anybody around him except by getting to the other side of this war"), expect more of a slow burn on Fear. Notes the actor: "There's a journey he is on that takes a few episodes to reveal itself."
The Big Question
Could Morgan ever cross back over and return to the Hilltop? "All things are possible," James says cryptically. "They're not always probable, but all things are possible." Thanks for nothing, Lennie!
Fear the Walking Dead, Season Premiere, Sunday, April 15, 10/9c, AMC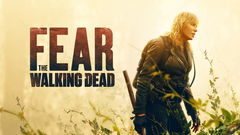 Powered by