The Best Episodes of the 21st Century With the Biggest Twists
Spoiler alert! Viewers love an OMG moment, and Alias set the bar high for crafty curveballs with its major post–Super Bowl outing, "Phase One" (Season 2, Episode 13).
Seconds after CIA double agent Sydney Bristow (Jennifer Garner) brought down evil organization SD-6, a final-moments scene of her best friend, Francie (Merrin Dungey), freshly murdered by her doppelgänger, sent our jaws to the floor and kicked a new mythology into overdrive.
See Also
Stay tuned to TV Insider daily as we count down The Best Episodes of the 21st Century.
Mr. Robot pulled a one-two punch on "eps1.7_wh1ter0se.m4v" (Season 1, Episode 8) by explaining that the titular loner (Christian Slater) guiding tortured hacker Elliot (Rami Malek) might be an imaginary projection of Elliot's late father—or even the real thing—and that fellow fsociety anarchist Darlene (Carly Chaikin) was his sister.
And Westworld's "Trompe L'Oeil" (Season 1, Episode 7) made us doubt everything after exposing so-humane head programmer Bernard (Jeffrey Wright) as one of the theme park's mechanical hosts.
Even comedies can pull fabulous fast ones: The Good Place's reveal that Eleanor (Kristen Bell) and company were actually in an afterlife known as the Bad Place in "Michael's Gambit" (Season 1, Episode 13)? Well, that was one hell of a twist. Literally.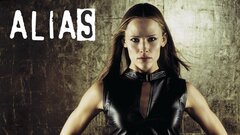 Alias
where to stream