Netflix Whips up a Batch of Controversy With Male-Dominated 'Chef's Table: Pastry'
Netflix recently dropped the trailer and announced the subjects for Season 4 of David Gelb's documentary series Chef's Table: Pastry, which launches April 13 and will be a four-part look inside the lives and kitchens of the world's most renowned international pastry chefs.
Each episode focuses on a single chef, which this season will include:
Christina Tosi, Milk Bar (United States)
Corrado Assenza, Caffé Ficilia (Italy)
Jordi Roca, El Celler de Can Roca (Spain)
Will Goldfarb, Room4Dessert (Indonesia)
Check out the new season trailer here:
Strangely—considering that of all the top kitchen professions, which are usually held by men, pastry chef is a largely female-centric career, and that women tend to dominate the awards in that industry—Christina Tosi (whom you may also recognize as a judge on Fox's MasterChef) is the only woman featured this season.
As Maura Judkis pointed out in a Washington Post article questioning the latest Chef's Table: Pastry casting, Outstanding Pastry Chef is the only chef category in which women made up all the nominees among this year's prestigious James Beard Award nominations.
Judkis also noted the overall lack of accurate representation on the show, citing the fact that of 18 episodes so far, only five female pastry chefs have been featured.
And she wasn't the only one to notice. As soon as the trailer and chef announcements were made by Netflix, Twitter weighed in to let them know that something was off with this latest serving of Chef's Table: Pastry:
this is a joke right? to only have one woman?https://t.co/42SgW91zA9

— Khushbu Shah (@KhushAndOJ) March 19, 2018
Chef's Table S1: 5 men, 1 woman
S2: 4 men, 2 women
S3: 4 men, 2 women
S4 (France): 3 men, 1 woman
S5 (Pastry): 3 men, 1 woman

Total: 19 men, 7 women https://t.co/UWloq1vYlz

— Daniel M. Jimenez (@DMJreports) March 19, 2018
Pastry is a culinary art dominated by women, but the new Chef's Table: Pastry is only profiling one female chef https://t.co/GWIDKFj5iX pic.twitter.com/oarymiWGE6

— National Post Arts (@nparts) March 20, 2018
FOUR pastry chefs. ONE woman. Fuck off, Chef's Table/Netflix. https://t.co/NPRfu6H7xo

— Tim Mazurek (@LottieandDoof) March 19, 2018
Just to recap: it's fine that there aren't more women in regular Chef's Table, because it accurately reflects that the industry is mostly men, AND it's good that 3/4 of Chef's Table: Pastry is men, because it challenges the status quo of more pastry chefs being women

— Helen Rosner (@hels) March 20, 2018
For his part, David Gelb responded to some users on Twitter acknowledging their points, so perhaps future seasons will see a better representation of chefs:
We agree there should be better representation of women across the board and we're committed to improving. There are many amazing chefs, from all walks of life, who inspire us and whose stories deserve to be told. We hope you enjoy the new season and the talented chefs behind it!

— David Gelb (@ThisIsDavidGelb) March 21, 2018
I don't who they are referring to but it definitely wasn't me. We are aware of lots of great stories about female chefs and will be sharing them!

— David Gelb (@ThisIsDavidGelb) March 21, 2018
We agree and we are working on it

— David Gelb (@ThisIsDavidGelb) March 21, 2018
Chef's Table: Pastry Season 4, Available Friday, April 13, Netflix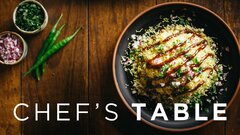 Powered by