As Master Chef's New Judge, Christina Tosi Adds a New Ingredient
Sweet! Christina Tosi— founder of New York City's wildly popular Milk Bar bakeries—is the new judge on MasterChef, replacing bad cop Joe Bastianich. Sure, Gordon Ramsay and Graham Elliot have a few years on this 33-year-old, but she has something they don't—the James Beard Award, considered the Oscar of the food world.
Besides a move toward gender equality—finally!—what else does a female judge bring to the MasterChef party?
It's funny. I was a crazy fan of the show for years, and it never hit me that they only had male judges. Now I see they really need girl power. The contestants had no clue there was a female judge this season and were quite surprised when I walked out on stage. The women were like, "Yes!" But I could tell some of the guys were thinking, "What is a chick in a dress doing up there?"
We know Graham's a sweetheart. What's it like standing up to Gordon?
I've worked in kitchens for 13 years, and people always ask, "Is Gordon that scary in person?" Well, he's never been scary to me. Many successful chefs have that same personality. They give it to you straight, even when it hurts. That's the restaurant business.
If you differ from the guys when judging desserts—your area of expertise—does your opinion trump theirs?
[Laughs] I wish! People don't realize Gordon started as a pastry cook. And Graham has his own bistro in Chicago but no pastry chef, so he moonlights in pastry as well. If they don't agree with me, they do not back off!
You've also filmed the next season of MasterChef Junior. What's the trick to judging kids so there are no hurt feelings?
The young ones are so much more resilient than the adult contestants because they're more honest with themselves. They're 8 to 13 years old and haven't built up that wall we need to jackhammer through. They're like sponges. No resistance. They embrace and absorb everything we offer.
Are they better cooks than you were at that age?
Puh-leeze! When I was young, my idea of a great recipe was mayonnaise, brown sugar, and Doritos. I shared that with the kids and they all stuck up their noses and squealed, "Ewww!" They thought I was joking! When it comes to skill and knowledge, they are so far beyond anything Gordon, Graham, and I dreamed of being at that age—and that makes me very excited about the future of food!
---
Nuts to You
This tasty snack from Tosi's new cookbook, Milk Bar Life, is a terrific at-home munchable or the perfect host gift.
Rosemary Nuts
Makes 4 cups
Ingredients
1 pound raw unsalted nuts (I use a mixture of walnuts, pecans, almonds, and pistachios.)
2 tablespoons unsalted butter, melted ß cup packed light-brown sugar
3 tablespoons chopped fresh rosemary
2 teaspoons kosher salt
Instructions
Heat oven to 350° F. Spread nuts evenly on a baking sheet and roast for 10 minutes or until fragrant and beginning to brown. Transfer to a large bowl, setting baking sheet aside. Mix butter, sugar, rosemary, and salt. Pour mixture over the warm nuts, tossing with wooden spoon. Spread nuts back on baking sheet and set on the counter for 30 minutes or until elements have solidified and cooled. Serve at room temperature. Store in airtight container in dark, dry place or refrigerate or freeze.
Masterchef, Wednesdays, 8/7c, Fox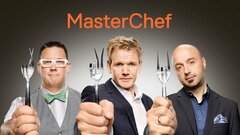 Powered by