'Madam Secretary' Star Sara Ramirez on How Her Life Inspires Her New LGBTQ Role
Madam Secretary's March 18 episode "Refuge" focuses on a group of LGBTQ (lesbian, gay, bisexual, transgender and queer-identified people) who want to escape severe persecution in their (fictional) native country.
Secretary of State Elizabeth McCord's (Tea Leoni), policy advisor Kat Sandoval (Sara Ramirez), and chief of staff Jay Whitman (Sebastian Arcelus) decide to help get them to a safer country. It's not an easy mission to pull off.
Ramirez—aka Callie Torres to Grey's Anatomy fans—is Madam Secretary's newest cast member. She sat down with TV Insider.com and executive producer Lori McCreary to talk about this special episode, following a New York City panel about the persecution of sexual minorities around the world.
How did your Madam Secretary role come about?
Sara Ramirez: I took a year off from work after leaving Grey's Anatomy, and when I decided to dip my toe back in, the timing worked out just right in that [creator/writer] Barbara Hall and [EP] Lori McCreary had an opening on Madam Secretary. They reached out to meet with me and they were very consistent and persistent, which I really appreciate.
I told them where I'm at in my life now, having come out publicly as bisexual and getting involved in LGBTQ advocacy work. I was very upfront about my intention if I was going to step back into a series role. I said, 'This is me, this is what I'm bringing, this is the hair [a mohawk] and the aesthetic [androgynous] that I want to work with the character." I wasn't sure what the response would be and I was really grateful that CBS said, 'Sure, let's go with that in terms of the actual character, and what they're about and how they identify.' And the look became sort of a thing!
We don't yet know much about Kat, other than she threw over some furniture in her past job as chief of staff to an ambassador. Oh, and that she has an avocado farm.
Ramirez: We're slowly seeing the character evolving. In this episode we definitely find out a lot more about Kat in a scene she has with Jay. We're modeling having a difficult conversation with kindness and respect.
Is it a conversation that dovetails with your activism?
Ramirez: There are so many ways to identify yourself. Kat shows up with a very clear aesthetic. You can't make assumptions what that means about her sexual orientation and gender identity. What I love about this episode is what we learn is in the context of someone making assumptions about who she is and why she's invested in the international LGBTQ story.
What's the response been from the show's fan base?
Ramirez: There's good and there's negative stuff, which can be really hard for me, so I try to shield myself from it. But I'm hearing from folks who are very supportive of what I'm doing. Folks in the LGBTQ community seem excited about this character. I wasn't sure how Kat identifies and this is the episode that we find out. People can get angry about just anything, so you can't make everybody happy with every representation. But I'm proud of the visibility that we're bringing because it's rare that we see this kind of character represented in mainstream media.
See Also
'Grey's Anatomy' viewers aren't holding back, to say the least.
How do Kat and Jay get involved in the refugee crisis?
Ramirez; A group of LGBTQ people are at a party; they're raided and go to prison. It's not the first time. Kat tells the State Department, 'We have this problem; we have to do something.' They need another country to go to. If the State Department declare them refugees, it could take 18 to 24 months to get them to America. Kat and Jay have to deal with the country they're trying to leave and surrounding countries at the same time. It's a balancing act between seeing this group and looking at the bigger diplomatic picture. Kat and Jay have to make very hard decisions.
Lori McCreary: The stakes are high and I still cry after seeing it many times.
Your character is super intelligent and spouts a lot of policy jargon. Is that tough to get through?
Ramirez: I really want to understand what I'm saying, so it's a good thing that I'm a little bit of a nerd.
What else is up for Kat?
McCreary: We have a lot of plans for her for next season if we return. The rest of this season, we'll be dealing with more international issues that are happening in real life.
Sara, you're smiling a lot! You seem to be very happy with this role.
Ramirez: It's really awesome to play such a strong, badass character, and to walk around with this aesthetic.
Lori, what do you hear from people in the actual State Department about your depiction of State's inner workings?
McCreary: We often hear from State Department people who watch the show about small things like "I'm so glad that you're getting the flag hung right in the background. " and "I'm so glad you're pulling back the curtain and showing how tough this is!"
Madam Secretary, Sunday, March 18, 10/9c, CBS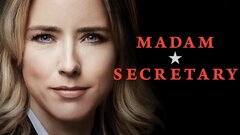 Powered by