'Sneaky Pete,' Letterman and Malala, 'Dynasty' on the Move
A selective critical checklist of notable Friday TV:
Sneaky Pete (Amazon Prime): The long con continues in the second season of this entertaining comedic thriller from executive producers Graham Yost (Justified) and Bryan Cranston. Giovanni Ribisi is back as ex-con Marius, better known now as the faux "Pete," after taking his former cellmate's name and moving in with Pete's estranged family (played by such wonderful character actors as Margo Martindale, Peter Gerety and Marin Ireland). Marius would love to give up the masquerade, but it only gets more complicated when thugs force him to go in search of Pete's off-the-grid mother Maggie (Hung's Jane Adams), who stole millions herself.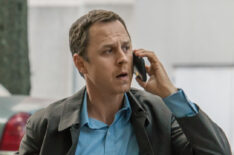 See Also
Marius and the crew return for another con.
My Next Guest Needs No Introduction (Netflix): David Letterman's most inspirational guest to date, timed with this week's International Women's Day, is Pakistani women's rights activist Malala Yousafzai, the youngest Nobel Prize laureate in history. Letterman visits her at the University of Oxford for a college tour and some Harry Potter banter, but they also get serious as she discusses her crusade for women's education and empowerment.
It's a busy day for Netflix, which also premieres the third and final season of Judd Apatow's dysfunctional romantic comedy Love, starring Gillian Jacobs and Paul Rust; the reality baking competition Nailed It, which adds a twist that all of the bakers are terrible at baking; and the politically charged four-part police drama Collateral, written by playwright David Hare and starring Carey Mulligan (Mudbound) as a London police inspector investigating the murder of a Syrian refugee working as a pizza deliveryman.
See Also
'If you retire to spend more time with your family, check with your family first,' the host quipped about his return to work.
Dynasty (8/7c, The CW): For the 12 of you who may have wondered where this out-of-sync reboot disappeared to, it has moved from Wednesday to Friday. So where are we? Cristal (Nathalie Kelley) is trying to save her imploding marriage, Steven (James Mackay) goes to the dark side in an attempt to help Sammy Jo (Rafael de la Fuente) and Fallon (Elizabeth Gillies) doesn't trust the Colbys. Soapy business as usual.
See Also
Most of the costumes are off the rack!
Inside Friday TV: On behalf of critics everywhere, I apologize to The CW's Jane the Virgin (9/8c), because our beloved Jane (Gina Rodriguez) has writer's block after reading a negative review. … Megyn Kelly moonlights from her daytime gig to grill Russian President Vladimir Putin in excerpts from two recent sit-down interviews, airing as an NBC News special, Confronting Putin (10/9c).