'Riverdale' Star Vanessa Morgan Spills on Choni, Bisexual Representation & Yoshi
Talk about a gem. As Toni Topaz, Vanessa Morgan has brought a breath of fresh feistiness to Riverdale.
At first, it looked like her Southside Serpent was going to come between Jughead (Cole Sprouse) and Betty (Lili Reinhart). But ever since Southside High shut down and forced Archie and company to share the hallways with their tougher neighbors, Toni has proven to be someone who can teach the cool kid a little somethin' about actually connecting.
Tonight, she forms an unlikely bond with Cheryl (Madelaine Petsch), the brittle bad girl who could use a friend… especially since the rest of the Riverdale crew has skipped town for the weekend. Here, the Shannara Chronicles alum explains where Toni's coming from, why she reaches out to young Miss Blossom, and whether #Choni is officially headed for the shipping lane.
So, it feels like we almost needed Toni to be a part of Riverdale.
Vanessa Morgan: Thanks, I love hearing that!
She's pretty much the only girl that actually speaks the truth without it being mean, and I like that.
Yeah, exactly! She's just trying to be genuine, not just always joking around or being sarcastic.
What is Toni's take on the Riverdale High scene?
I feel like Toni's like, 'Wow, this is so different from Southside. Oh my gosh.' I don't think she's a fan of how they're telling her she can't wear her Serpent jacket or any of her fake jewelry at school. She obviously wasn't a fan of the uniforms that lasted, like, what? One episode?
Yeah, that's about right!
[Laughs] She's not a fan of that, of course. She has a very unique style. She loves her fishnets, which might be considered inappropriate for a real high school. Other than that, I think she's more excited about the opportunity to get a higher education. She's very smart, and I think she does want to kind of make that better life for herself. She's from a broken home, her mom's kind of trash, but she does love her roots. She loves Southside Serpents. I feel like she wants to be a Southside Serpent for life, but she does want to get that better education for herself, so she's super excited about it.
She's no social climber.
No, no. She loves her crew. I think she's down to make some new friends but I think she'll stay true to who she is. This is her opportunity to get what she can from being at a better school.
When we first met her, everyone assumed she was going to be trouble for Bughead.
I know. [Laughs]
It's been so nice to see that she's evolving past that storyline.
I know and I love it. Now she's at a new school and she's making new relationships with other characters. That's really awesome. She and Jughead, that whole thing just turned into them being good friends and they know they have each other's back.
Now, obviously the fans are rooting for this connection between Cheryl and Toni…
Oh yeah! I was just saying in this other interview I did that the fandom and the amount of drawings is amazing. Like, I have a stack in my saved photos on Instagram of drawings of me and Madelaine as Toni and Cheryl. And all the fan fiction that they've already done—only from our two interactions! We've had two interactions so far, and people have like run with it.
And this week's episode is only going to fire it up more.
Exactly! She's one of my best friends in real life, from before I even started the show, and we love it. It's better to have a storyline with your best friend.
You guys were even roommates, right?
We were living in an apartment in LA, like she stayed with me for a month. When we're not working, we hang out every day that we're not working.
Have Roberto [Aguirre-Sacasa, showrunner] and the writers told you about where is this headed?
I don't know if I can tell you that answer, because obviously I know where it's headed. [Laughs]
There are a lot of signs being sent out tonight. Toni is very affectionate towards her, and is really the first person to get Cheryl to open up about something we never knew about her. Plus, they're polar opposites, which always makes for great romance.
She sees that Cheryl's obviously stunning, but Toni loves a challenge and she can see through the wall she's putting up. It's also that she feels for her. I think Toni is kind of broken a bit, too, from whatever her family past is. I think Toni said in an episode that her uncle locks her out of the house sometimes, and we've only really met her grandpa. She probably sees Cheryl and is like, 'That girl's broken and I just want to get to know her. I think we can relate.'
Should it go in a direction of the shipping, how important is it for you to represent a bisexual character?
I love it. It's so important and I know Madelaine feels the same. It's so important, especially to represent a bisexual character and show that sexuality can be seen as a spectrum and to not conform with the norm. I'm so about that. I think if that does end up happening that way, it will be a very beautiful thing and I'd love the world to see it go so naturally in that direction. Fingers crossed that's the direction. I can't say too much.
Given Cheryl's fondness for being a little controlling, can we count on her possibly trying to makeover Toni?
[Laughs] I don't think Toni would change herself too much! Maybe you'll see her try to put on an outfit on her or Toni will borrow her clothes or something one day, but Toni's always going to be a Southside Serpent. She can't be changing too much. She can't be showing up with the boys totally decked out.
She cannot be showing up with a Peter Pan collar and the schoolgirl look to the Serpents!
Exactly. Regardless of what happens, she's still going to be wearing her fishnets and her leather jacket.
We need to talk about your Chihuahua, because oh my God.
Yoshi!
Holy crap, I saw the Instagrams of him, he's so cute.
He's literally sitting on my lap right now. He's like obsessed with me and he follows me everywhere I go. He doesn't leave me alone. He comes to work with me every day. He's like the on set emotional therapy dog now. Every time he comes, everybody's like, "Yoshi," and like holds him.
How old is he?
He's almost six years old. He's so good at work because he's been coming to sets with me for years, ever since he was six weeks old. He just sits on my cast chair while I'm doing a scene. He's the best.
We need to talk to the producers about getting him in a shot somewhere.
[Laughs] Everybody's been talking about it. Everybody's like, 'Yoshi needs to get on the show.'
Hilarious. After this episode, what can you tell us about what's coming up for Toni?
I think you're going to see a lot more of Toni. I think you're going to see new relationships blossom [Laughs] with Cheryl and with other characters as well. That's really exciting because Toni's usually just being with the boys. That's really cool for her, she's going to be with the girls!
And the fandom just exploded. Watch an exclusive clip of the two from the episode below:
Riverdale, Wednesdays, 8/7c, The CW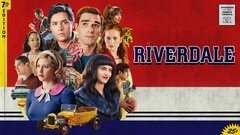 Powered by