'Counterpart' Preview: Howard May Be in Over His Head on the Other Side (VIDEO)
Is Howard Silk (J.K. Simmons) going to be able to continue working with the other side on Starz's new drama series Counterpart?
First up, though, we need to make it clear that we're talking about the Howard that isn't the hard-edged spy (also played by Simmons) like his 'counterpart' that he was introduced to at the start of the show's first season.
Howard has been on the other side (the alt-universe that may look similar to our world in the show but is quite different in many ways) for awhile now, and, in pretending to by a spy, he's been exposed to things he's not quite used to seeing and, also spending time with his wife and the daughter he doesn't have on his side. (Follow all that?)
See Also
Read what the actresses have to say about their departure.
In this exclusive clip from the Sunday, March 11 episode, Howard is the passenger in a car driven by spy Howard's ex-wife, Emily (who is in a coma in Howard's actual world and played by Olivia Williams in both incarnations) and wants to know how anyone can do the work that they do and not let it drive them mad.
Will Emily really share how she is able to cope? Watch the clip and find out:
Counterpart, Sundays, 8/7c, Starz.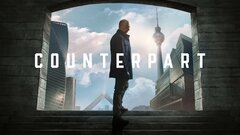 Powered by