5 of TV's Best St. Patrick's Day Episodes to Stream
Green clothes! Corned beef! Cabbage! The annual Irish holiday is known for many things. And, if we get our way, watching these hilarious St. Patrick's Day–themed episodes will soon rank among them. Stream 'em after you celebrate with a pint.
30 Rock
"The Funcooker" (Season 3, Episode 14), Hulu
Sketch show producer Liz Lemon (Tina Fey) faces the fallout after stars Tracy and Jenna (Tracy Morgan and Jane Krakowski) curse and doze off, respectively, while hosting the St. Patrick's Day Parade. And she gets jury duty.
See Also
Stars from 'Outlander,' 'Downton Abbey' and more.
30 Rock
"St. Patrick's Day" (Season 6, Episode 12), Hulu
Liz and boyfriend Criss (James Marsden) plan to avoid the revelers in New York City by staying inside, ordering Thai food and laughing at excerpts from Angela's Ashes. Sadly, they lack the luck of the Irish—and Liz's ex, Dennis (Dean Winters), ends up crashing their un-party.
It's Always Sunny in Philadelphia
"Charlie Catches a Leprechaun" (Season 11, Episode 8), Hulu
Charlie (Charlie Day) declares this the year that he's finally going to catch a leprechaun by rigging human-size homemade glue traps in the Paddy's Pub basement. Instead, he inadvertently ends up kidnapping a very angry little person.
The Office
"St. Patrick's Day" (Season 6, Episode 19), Netflix
The March holiday is a huge deal to the denizens of Scranton, Pennsylvania. So manager Michael Scott (Steve Carell) and his employees at the Dunder Mifflin paper company are extra bummed when new hard-charging CEO Jo Bennett (Kathy Bates) makes them stay late. Now, if only they could find a way to sneak out…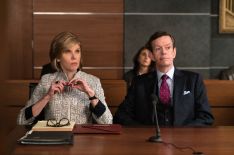 See Also
Christine Baranski returns in 'The Good Wife' spin-off for CBS All Access.
Cheers
"Bar Wars VII: The Naked Prey" (Season 11, Episode 19), Hulu
The Cheers gang and their nemesis at Gary's Old Towne Tavern compete over which bar will make the most sales on St. Patrick's Day. When the battle ends, only one bar is left standing (hint, hint). The best bit: Cheers owner Sam Malone (Ted Danson) and the gang sing "Getting to Know You" a cappella…and in the nude.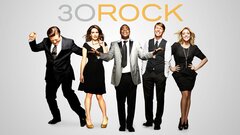 30 Rock
where to stream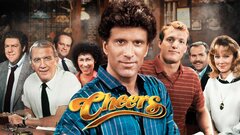 Cheers
where to stream