USA Locks Premiere Date for 'Unsolved: The Murders of Tupac and The Notorious B.I.G.'
USA Network has set the premiere for its true-crime anthology series Unsolved: The Murders of Tupac and the Notorious B.I.G: The 10-episode limited series will debut Feb. 27 at 10/9c. The network also dropped a new trailer along with the date announcement:
Unsolved chronicles the dual police investigations of Detective Greg Kading (Josh Duhamel) and Detective Russell Poole (Jimmi Simpson) into the controversial murders of two of the rap industry's most legendary players, Tupac Shakur (Marcc Rose) and The Notorious B.I.G. (Wavyy Jonez).
Emmy winner Anthony Hemingway (The People v. O.J. Simpson: American Crime Story) is set to direct and will executive produce along with Mark Taylor. The real-life Greg Kading, the former LAPD detective from the 2006 investigation into the murders, will also serve as co-executive producer.
Unsolved: The Murders of Tupac and The Notorious B.I.G., premieres Feb. 27, 10/9c, USA Network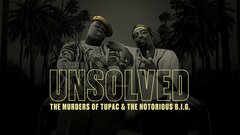 Powered by