'The Tick' Returns, 'Seven Seconds' on Netflix, a Movie Award for Grownups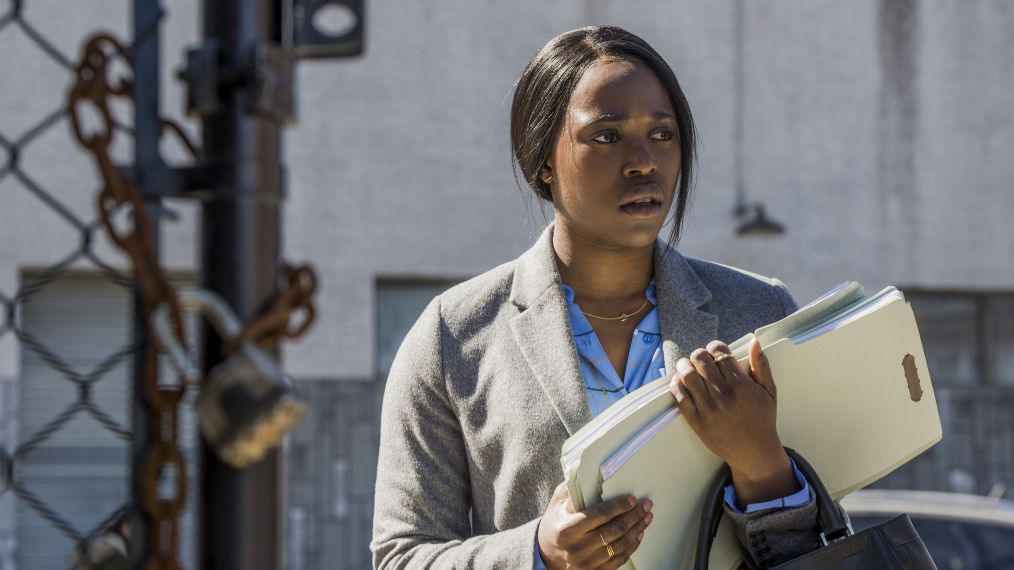 A selective critical checklist of notable Friday TV:
The Tick (streaming on Amazon): With his wiggling antennae, bright blue costume and childlike enthusiasms—"Hot dog, killer robot!" he chirps—The Tick (winningly played in this latest incarnation by Peter Serafinowicz) is a wonderfully entertaining antidote to all of those self-important super-serious superheroes out there. Returning for the back half of a brisk 10-episode first season—it has been renewed for a second—the action picks up with Tick fretting over his nerdy sidekick Arthur (Griffin Newman), who's been kidnapped by the resurrected arch-fiend The Terror (Jackie Earle Haley). With the help of Arthur's fearless sister Dot (Valorie Curry) and fearsome vigilante colleague Overkill (Scott Speiser), the Tick is determined to stop The Terror from doing damage to the revered superstar superhero Superian (Brendan Hines). We have faith in this blue marvel, even if he does have a habit of confusing "onions" with "minions."
Seven Seconds (streaming on Netflix): The anguished spirit of ABC's much-missed American Crime series lives on in a grueling 10-part urban melodrama from Veena Sud (The Killing). Two-time Crime Emmy winner Regina King stars as the distraught mom of a Jersey City teen struck on his bike by a white cop. This terrible accident escalates to the level of a deadly crime when the cop's corrupt partners try to cover it up, with many incendiary legal, political and emotional twists along the long and frustrating road to justice. The strong ensemble includes Clare-Hope Ashitey as a train-wreck of an assistant district attorney who takes the case, Michael Mosley as her gum-cracking detective with a thing for strays, Russell Hornsby as King's shattered husband and Gretchen Mol as a cunning shark lawyer for the police.
Also premiering on Netflix: the futuristic movie thriller Mute, starring Alexander Skarsgard as a mute ex-Amish bartender seeking his missing girlfriend in a dangerous 2048 Berlin, where he encounters gonzo American surgeons played by Paul Rudd and Justin Theroux. And foodies will want to check out Ugly Delicious, an eight-episode culinary travelogue in which Momofuko founder and celebrity chef David Chang introduces famous friends (including Jimmy Kimmel, Steven Yuen and Nick Kroll) to exotic cuisines and broaden their taste horizons.
Movies for Grownups Awards with AARP the Magazine (9/8c, PBS, check local listings at pbs.org): In its 17th year of rewarding movies that refuse to pander to the whippersnappers, this ceremony makes it to TV courtesy of Great Performances. Taped earlier this month at the Beverly Wilshire Hotel, the evening is hosted by Alan Cumming, who opens with musical parodies of Get Out, Lady Bird, Star Wars: The Last Jedi, The Shape of Water and Three Billboards Outside Ebbing, Missouri. (Is he angling for Jimmy Kimmel's Oscars job?) Helen Mirren, adored by all generations, receives the Career Achievement award.
Inside Friday TV: NBC's telecast of the Winter Olympics (8/7c) enters its final weekend with the debut of Alpine's team event (weather permitting), a new event in Snowboarding with men's big air, plus the men's 1000m in Speed Skating and the four-man Bobsled. … A different sort of action unfolds on Cinemax's Strike Back (10/9c) as Section 20 treks into the Hungarian forest to rescue Mac (Warren Brown) from a white-nationalist camp—and also to keep a Russian chemical-weapons expert from falling into the clutches of evil terrorist Jane Lowry (Katherine Kelly).