'How to Get Away With Murder' Star Karla Souza Accuses Director of Rape
How to Get Away With Murder star Karla Souza is the latest star to come forward with her #MeToo story.
The Shondaland actress revealed Wednesday that she had been raped early on in her career by a director. Souza alleged to CNN en Espanol that she was working in her native Mexico when the director of the project turned verbally and sexually abusive.
See Also
Even the handshakes look fierce.
She goes on to claim that she and the director were staying at the same hotel, while the rest of the cast and crew were staying at another. During this time, the man in question would apparently try to persuade her to work on scenes and go over the script.
"I ended up giving in to him. [I let him] kiss me, to touch me in ways I did not want him to touch me and in one of those instances, he attacked me violently and yes, he raped me," recalled Souza.
Unlike some of the women in entertainment coming forward with their stories, Souza chose not to reveal the identity of her alleged assailant. However, after the interview, The Hollywood Reporterreported that writer-director Gustavo Loza had been fired by Televisa following the claims.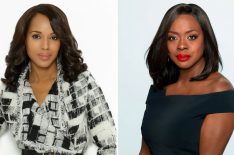 See Also
Get the scoop on how Annalise and Olivia meet in the two-hour TGIT special event.
Telvisa made a statement saying, "Following the public accusations about sexual abuse from actress Karla Souza, and after a preliminary investigation, Televisa has decided to immediately sever its (working) relationship with Mr. Gustavo Loza."
The director has since asked Souza to come forward and clear his name. Loza and the actress worked together on a couple of different projects within the last 10 years. "I deny any accusation against me by Televisa, who has accused me without foundation regarding the case of the alleged rape reported by @KarlaSouza7, [one] I deeply regret and openly condemn," the director wrote on Twitter.
Me deslindo de toda acusación en mi contra por parte de @NTelevisa_com y de @DeniseMaerker quienes el día de hoy me han acusado sin fundamento referente al caso de la presunta violación denunciada por @KarlaSouza7 lo cual lamento profundamente y condeno abiertamente.

— Gustavo Loza (@gusloza) February 21, 2018
Souza has not yet responded to Loza's statement.