WATCH: Ralph Macchio & William Zabka Are Back for the 'Karate Kid' Revival Series
We thought we'd seen everything when it comes to '80s and '90s reboots… until now.
The latest TV retread comes via an unlikely source: YouTube Red. The streaming service has thrown its hat in the ring with a series take on the 1984 flick, Karate Kid. If that sounds like a tough pull, we'd agree with you—except that they were able to snag the original cast!
In the first-ever footage from the revival show, titled Cobra Kai, fans of the original movie will see two familiar faces: Ralph Macchio as Daniel "Daniel-san" LaRusso and William Zabka as Johnny Lawrence. Not only that, but it looks like their feud is still alive and well—and ready be settled 34 years later.
"Johnny, you and I, this, we aren't done," Macchio's Daniel says in the clip, as the two face off on the mat.
The rest of the teaser is pretty vague, but color us intrigued! Watch it in full below:
Cobra Kai, late 2018, YouTube Red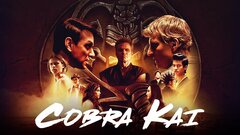 Powered by