Cheryl Hines Reveals Larry David Introduced Her to Husband Robert Kennedy (VIDEO)
Curb Your Enthusiasm's Cheryl Hines grabs a seat on this Thursday's episode of Talk Show the Game Show with host Guy Branum, and, of course, this is not your usual chatfest banter.
Because the comedy hybrid mixes elements from both genres of its title—imagine the party version of The Tonight Show with a running points system and less Jimmy Fallon singing (thank god)—even the simplest sitdown with Branum comes with a competitive edge, which Hines seems to handle with aplomb. And a cocktail.
See Also
The comedian reveals how people like Mindy Kaling brought him to where he is now.
Check out this exclusive clip of the actress' high-scoring anecdote about how she met her husband, Robert Kennedy Jr., and what it's really like to hang out at his family compound. Then set a reminder for yourselves that this is a show that you need to be watching on the reg, ok?
Talk Show the Game Show, Thursdays, 11/10c, truTV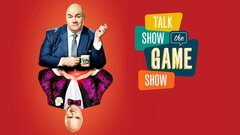 Powered by