Lennon Parham Gets to the Points on 'Talk Show the Game Show' (VIDEO)
We here at TV Insider have never been quiet about or ashamed of our love for Lennon Parham.
Not only did she and real-life ride-or-die Jessica St. Clair give us the glory that was Playing House, she also brought the (White) house down as Veep's double-speaking advisor Karen Collins. Plus, she literally destroyed The House with her fight-night bit against I'm Sorry's Andrea Savage in last summer's Will Ferrell-Amy Poehler flick.
See Also
Jessica St. Clair and Lennon Parham get goofy, and we love it.
But even that brutally hilarious smackdown couldn't have prepped Parham for her latest challenge: appearing on Talk Show the Game Show. For the uninitiated, this is not your typical chatfest—as host Guy Branum announces at the opening of each episode, TStGS is where "celebrities lock horns in conversational battle to find out who's the best talk-show guest in America."
After racking up points in categories that include "Joke & Laugh," "Audience Applause," "Political Grandstanding," "Plug Project," and the always popular "Name Drop," each guest is then evaluated by a panel of judges on everything from form and style to their individual level of privilege.
See Also
The 'Curb Your Enthusiasm' star spilled the beans on 'Talk Show the Game Show.'
Parham drops in this week, along with Champions' Anders Holm and comic Seaton Smith, and she immediately starts scoring big numbers with her entrance. She follows that up with the below anecdote about how she spends her Sundays. Check out the exclusive clip below and then do yourselves a favor and set the DVR for the rest of the fun:
Talk Show the Game Show, Thursdays, 11/10c, truTV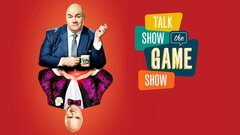 Powered by