'The Walking Dead's Five Most Shocking Deaths
The walkers have claimed another life on The Walking Dead. In the fall finale, young Carl (Chandler Riggs) revealed he'd been bitten by a zombie—meaning death was imminent.
Unfortunately, the survivors on AMC's megahit are no strangers to loss. We ranked the most memorable exits (so far).
1. Lori (Sarah Wayne Callies)
Living in a postapocalyptic world riddled with zombies can be dangerous…especially, it turns out, during childbirth. Lori's emergency C-section in Season 3 proved fatal. If that weren't bad enough, Lori's own son, Carl, had to shoot his mother post-death to prevent her from becoming a walker!
2. Sophia (Madison Lintz)
Sophia's disappearance drove the first half of Season 2, as her mom Carol (Melissa McBride) and Co. searched for the missing girl. They were horrified to discover her undead, among the walkers being housed in Hershel's (Scott Wilson) barn.
3. Glenn (Steven Yeun) and Abraham (Michael Cudlitz)
Evil Negan's (Jeffrey Dean Morgan) reign of terror kicked off at the end of Season 6 with the threat of impending death for one of the survivors. But the resolution of the cliffhanger was worse than expected: Negan bashed in both Abraham's and Glenn's heads.
4. Sasha (Sonequa Martin-Green)
Attempting to kill Negan in Season 7, Sasha committed suicide with the hopes that her soon-to-be-zombie persona could take out the deranged dictator. Unfortunately, one of Negan's men prevented her from succeeding.
5. Noah (Tyler James Williams)
In Season 5, there was no good way out when Noah, Glenn and Nicholas (Michael Traynor) got trapped in a revolving door surrounded by walkers. Noah was consumed by the horde (up against a glass window!) as a horrified Glenn could do nothing but watch.
The Walking Dead, Midseason Premiere, Sunday, Feb. 25, 9/8c, AMC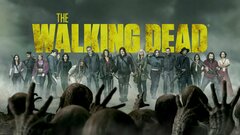 Powered by