Mary J. Blige Gets Her First Full-Time TV Gig on Netflix's 'Umbrella Academy'
It looks like two-time Oscar nominee Mary J. Blige, is sticking around Netflix a bit longer—she  just signed on to co-star in the upcoming series, Umbrella Academy.
Blige, who recently starred in the Netflix original movie Mudbound, is currently nominated for Best Supporting Actress as well as Best Original Song. Umbrella Academy will take her from the real world into the fantastical world of superheroes.
The show is an adaptation of Gerard Way's comic series of the same name, and will follow a family of superheroes as they try to uncover the mystery surrounding their adoptive father's death. Already an Eisner Award-winning comic series, Umbrella Academy's pre-existing fan base is sure to be pleased.
As for Blige, the singer will play a time-traveling hit-woman named Cha-Cha, who uses painful methods as a means to gain information, and cares little for others. The stone-cold killer only cares for partner Hazel, who has yet to be cast. The original series has been praised for its unique spin on the superhero genre.
While Blige brings some serious star power of her own, she is joining an already-established cast of A-listers like Ellen Page (Juno, Inception) and Tom Hopper (Game of Thrones, Black Sails). The show will be produced by Steve Blackman, known for his work on critical successes like Fargo and Netflix's newest breakout hit Altered Carbon. Also in the cast are: Emmy Raver-Lampman, David Castaneda, Robert Sheehan, and Aidan Gallagher.
No release date has been announced, but the series has a 10-episode order and is expected to hit the streaming service later this year.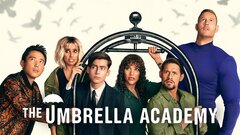 Powered by