'The Deuce' Writer Reveals James Franco's Return & More Season 2 Details
In the wake of James Franco's sexual harassment claims, it appears The Deuce star will be returning for Season 2 of the HBO series focusing on the birth of NYC's porn industry.
The news of Franco's involvement in Season 2 was revealed by series writer Megan Abbott at the Writers Guild Awards on February 11 in New York City. Though surprising given the circumstances, this announcement means the drama will continue to pack some serious star power, with Maggie Gyllenhaal also returning to reprise her role as Candy.
The Deuce is Abbott's first venture into TV writing—she's a novelist—and it earned her a WGA nomination with the rest of her writing team. TV Insider had the chance to speak with Abbott at the event about what's coming up for the characters in the second season.
She first shared that it was very important to portray Gyllenhaal's character Eileen aka Candy as a strong female. "I think a big concern was that [Candy]'s not portrayed in the stereotypical ways like the hooker with a heart of gold, or just the victim that has no other character or personality beyond that status."
See Also
Double your pleasure (two James Francos!) in this bold new porn-themed period drama from the creators of 'The Wire'
One of the difficulties of making The Deuce is keeping it historically accurate, making the treatment of female characters a tight line to walk. "The goal was to make all of the women on the show—particularly the ones in the sex work business—have full-bodied personalities and characters and different emotions. That was really the goal to have that kind of range."
Of Season 2, Abbott had this much to share with us: "We're jumping forward in time. We're going to be jumping forward about six years, right into the late '70s, so that's exciting. There's a slightly different view of Times Square, and in porn [Laughs]. Porn's a little different in '77."
With so many details already in the works, it shouldn't be long before fans get an idea of when the show will make its TV return.
The Deuce, available on HBO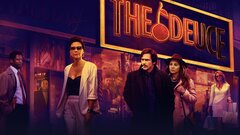 Powered by