5 Things to Know About 'Queer Eye's Culture Expert Karamo Brown
If there's one thing you should know about Netflix's Queer Eye reboot that launched last week, it's that the five experts—Tan France, Jonathan van Ness, Antoni Porowski, Bobby Berk, and Karamo Brown—aren't making anyone over.
As Brown explained to TV Insider, "[We] help make better a person. We don't say makeover because we don't want to change anyone. We just want to help who you are to be better. And those five different expertise are fashion, grooming, design, cooking and then me as culture."
If you have yet to check out the new episodes—all available on the streaming network now—you'll see that, besides making each person better, Queer Eye has a whole lot of heart. You'll laugh, you'll have some of your preconceptions challenged, you might learn something and, yes, you might grab for some tissues.
Read on for more scoop straight from Brown, who filled us in on how the new Fab Five came together, working with subjects in the south, how he has changed since we first saw him on a certain MTV reality show, and more.
1. He almost didn't get to audition for the show
Brown remembered watching original Queer Eye breakout Carson Kressley on Bravo's Watch What Happens Live saying there was a reboot coming. "I called my agent and was like, 'I'm gay and why don't I know about this?' He was like, 'They're finished casting. They're already at the end.'"
However, Brown, never one to take 'no' as a final answer, managed to get in front of the producers. "They brought me in as a favor two weeks before they chose the cast," he remembered. Brown had already bonded with the other four men before the final decision. "We came in there and were like, 'Move out the way, girls. We are here!'" The rest is Queer-story.
2. He's a different kind of culture expert
Brown's friend Jai Rodriguez was the culture expert in the original series but Brown knew he had something different and unique to bring to the gig. "My background is in social work and psychotherapy," he reasoned. "I need to fix the inside. How do we get people to build their confidence and feel more important about themselves? So while everyone's fixing the outside, I fix the inside—while still having fun and doing a lot of great stuff. The network likes to say I engage in a lot of culturally relevant conversation."
3. True or False: Everything on the show is preset and basically scripted. FALSE!
"A lot of people assume on shows like Queer Eye, that we were making better someone and that we had producers that tell us what to do. So at the beginning of the week, the producers would give us a sheet of paper and it would say the person's name, age, job, and maybe two lines about them. That's it. And they would say, 'Now figure out what you're gonna do with them and help them.'"
4. The subjects are a variety of people
The subjects that the Fab Five make better aren't really subjects to the guys. "We call them heroes," Brown explained. "They're not all males and they're not all straight. That's a big thing for us. It's 2018 and I love that the producers of this show felt like, 'Why do we need gay men to feel like they're still accessories to these straight men?' That's why the show is now just called Queer Eye instead of Queer Eye for the Straight Guy, which is really great."
5. This isn't his first reality show rodeo
Fans of MTV's The Real World will remember Brown from the Philadelphia season, and misconceptions still follow him to this day. "I had just graduated from college and was a belligerent little a**hole, a 22-year old," he shared. "A lot of people think that I'm super-combative and I'm not. Arguing in your 30s is not cute. Have a conversation or move on with your life. Who needs the stress?" Before the Queer Eye reboot, Brown hosted MTV's Are You The One: Second Chances.
Watch the opening of the reboot below:
Queer Eye, season 1 episodes are streaming now on Netflix.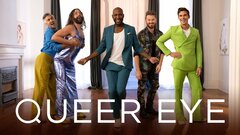 Powered by