WATCH: Time Travel Back to the '90s in Netflix's New 'Everything Sucks!' Trailer
High school is tough no matter what decade you're in. The new Netflix series, Everything Sucks!, follows a group of freshman as they navigate the trials, triumphs, stress and heartache of school in 1996 Boring, Oregon.
The story centers around two dueling school clubs—the A/V Club and Drama Club—and the nerdy, quirky kids in them who decide to make a movie about the perils of growing up.
The cast includes: Peyton Kennedy (Kate), Jahi Winston (Luke), Rio Mangini (McQuaid), Quinn Liebling (Tyler), Sydney Sweeney (Emaline), Elijah Stevenson (Oliver), Patch Darragh (Ken) and Claudine Nako (Sherry).
As we are well aware of, given all the reboots and revivals already airing and coming soon to TV, nostalgia is a major TV trend right now, and it is being welcomed by large audience numbers. Everything Sucks! is certainly playing to that audience, with all of its 1990s music and pop-culture references in the show.
The cast, mostly made up on teens born after that decade, weren't familiar with the time period, so they had a little homework to do.
At a Netflix press event in New York City, Sydney Sweeney revealed, "We got sent a list of TV shows and movies to watch from Mike and Ben (the co-creators). We watched 10 Things I Hate About You, Freaks and Geeks, The Breakfast Club, Show Me Love."
"Towards the end [of filming] we were singing songs together from the '90s," Sweeney added. "We all sing 'Wonderwall' together." Actually, on the day the cast wrapped shooting they blasted the Oasis song in the car, sang along and cried happy tears.
The cast also showed up at the event with disposable cameras, which they said were part of a project they're working on. "We each got little disposable cameras on set, and we would just take pictures. We also had little camcorders and we would tape everyone behind the scenes, and they gave us some for this [press] trip," explained Sweeney.
Those pictures are being used as part of the promotion for the show and will appear on social media.
So can these very young actors relate to teens from a different era? Absolutely.
"I think the genius of Mike and Ben was that they didn't just cast actors because they were good at playing the role. They cast actors because they knew to some extent that [the individual actors] were the characters. I think all of us relate to our characters," said Quinn Liebling.
"Everything our characters are going through in the show, they're going through today—kids right now—not just in the '90s," added Sweeney.
"Our characters could be in any timeline," agreed Peyton Kennedy. "I think that's the beauty of our show."
Watch the trailer below:
Everything Sucks!, Series Premiere, Friday, Feb. 16, Streaming on Netflix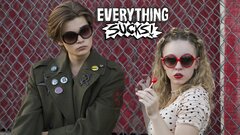 Powered by