'This Is Us': Jack's Hidden Goodbye and More Super Bowl Episode Reveals
By now, you've probably seen the "Super Bowl Sunday" episode of This Is Us. But if you haven't, then now is the time to stop reading because we're about to drop some major spoilers.
In the devastating hospital sequence, you'll remember Rebecca (Mandy Moore) retrieving a candy bar from the vending machine, while Jack (Milo Ventimiglia) goes into cardiac arrest right around the corner. The scene goes by quickly, but if you listen carefully, you will hear a faint voice calling Rebecca's name. You didn't imagine that…
See Also
We're still recovering from Jack's heartbreaking death.
"And if you caught this, when she's at the vending machine, you hear Jack say 'Bec?'," Ventimiglia revealed to Esquire after the episode. "I had recorded a lot of different versions of that, some that were a little more ethereal, like I was whispering. You'll have to ask Dan [Fogelman], but my belief is that it's a presence. That was Jack saying 'Bec?' She turns her head and everything."
A detail like that certainly powers up the waterworks, but this ghostly goodbye isn't the only thing that Ventimiglia shared in the interview. The actor also detailed what it was like to work on set with fire, and it was just as terrifying as you'd imagine.
"We had the safest team on the planet controlling the flames, and there was never a moment where I felt threatened, but there were several moments where I felt the presence of the beast of fire," the 40-year-old recalled. "It was terrifying, in the most controlled of ways."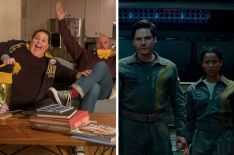 See Also
Did the Netflix surprise steal 'This Is Us' numbers?
There is little else to fear now that the one thing fans were dreading has finally happened. Jack's death is almost a relief—we've known that Jack was deceased since the first season, the questions of when and how have finally been answered. But Ventimiglia promises that this isn't the last you'll see of the Pearson Patriarch.
"There's still so much to know about this man, from all the eras, so I'm excited to focus on how Jack lived as opposed to worrying about how he died," he reasoned.
So calm those tears, because everyone's favorite TV dad might be dead but there's still a lot of Jack's life that we have yet to see. Thank God for multiple timelines.
This Is Us, airs Tuesdays, 9/8c, NBC
Powered by