Mark Burnett and Roma Downey Plan Live Nativity Musical for NBC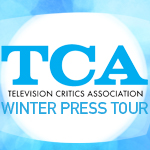 Mark Burnett is aiming to bring the bible back to NBC, this time via a live event timed to the Christmas season.
Burnett is in the early stages of developing a live musical special based on the Nativity tale of the birth of Christ. Consider it a mashup of The Voice, the hit NBC music series that Burnett produces, and The Bible, the hit longform event that Burnett and wife Roma Downey produced for History in 2013. (Last year, Burnett and Downey followed that up with the drama A.D.: The Bible Continues for NBC.)
"This is something we looked at last year, a big live stage performance around the Nativity, something that is near and dear to my and Roma's hearts," Burnett says. "A lot of contemporary music fits the Nativity, but also traditional music."
Burnett and Downey will executive produce the Nativity event along with The Voice's Audrey Morrissey and Stijn Bakkers. Burnett is producing via MGM Television and Digital Group, where he is now president.
RELATED: The Wiz Live! Continues the Power Trend of TV Musicals
Morrissey, in particular, has a great deal of experience producing live musical events such as the MTV Video Music Awards and the CMT Music Awards.
"We like the fact that she has produced rock concerts," says Paul Telegdy, NBC's president of alternative and late night programming. "We want to give the Nativity story an interesting twist."
Speaking of twists, NBC and Burnett are also looking to turn the special into a larger enterprise beyond the airwaves. That includes potentially producing the event in front of a live, paying audience in a major venue.
"What we do is only limited by the scale that NBC and we decide," Burnett said. "It could be in an arena or in the streets of a city. It could turn into a large annual event for millions of people. There are already Christmas parades; it's not a big stretch to create a big live event around a TV special."
Telegdy and Burnett are eager to produce the Nativity event in time for Christmas 2016. "It will require Biblical help," Telegdy quips.
There's no casting yet, and talks are only beginning to find a city and events company to partner with.
Fox is planning a similar live musical event around Christ's Passion, narrated by Tyler Perry. That special, which will air Sunday, March 20 at 8/7c, will be performed in New Orleans and feature stars performing popular music while telling a modern-day version of the story of Jesus' crucifixion and resurrection. It's based on an annual Dutch TV event.
"I'm so glad they're doing it," Burnett says of that production. "Tyler Perry is a good friend of mine. He's a man of faith. It's a great idea."
The Nativity event comes as NBC continues to expand its live event stable, having just announced Hairspray as this year's live musical geared toward the holiday season.