Jesus and Friends: The Cast of A.D. Brings the Bible to Life
Juan Pablo Di Pace
Hails From Argentina
Where You've Seen Him Before TNT's Dallas and the Mamma Mia! movie
He Plays Jesus Christ, the Son of God. Although he logged most of his screen time in the first two episodes, it's not exactly a spoiler to reveal that Jesus's spirit will persevere throughout the series. "In an indirect way, my character is alive all the time because the others are always talking about his message," says Di Pace.
Ye Gotta Have Faith He'll have an encore performance in Episode 8, when Jesus appears to–and ultimately converts–Saul, who's been busy persecuting the disciples. "Jesus will have a little tougher edge there than we've seen before–he's essentially telling Saul off," says Di Pace. "I wanted to make him incredibly realistic and as close to human as possible."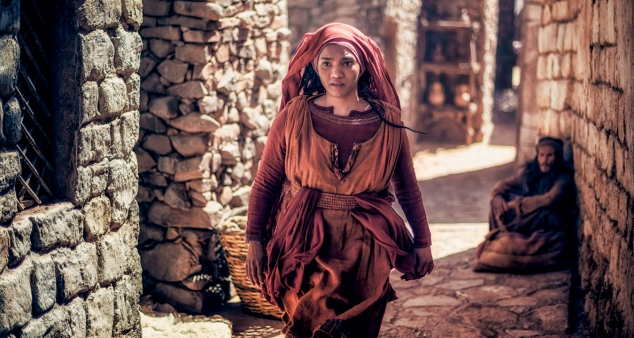 Chipo Chung
Hails From Zimbabwe
Where You've Seen Her Before Camelot
She Plays Mary Magdalene, the most famous female disciple and the first one Jesus presented himself to after the Resurrection. "Mary's steadfastness makes her the backbone of the organization," Chung says. As for her less-than-pious rep? "She's been portrayed many times throughout the ages as a prostitute–which is completely untrue and not biblically accurate!"
Ye Gotta Have Faith After helping the apostles settle into an ad hoc commune in Jerusalem, Mary will switch gears in Episode 7 and go undercover among the Romans as a servant in Pilate's palace. "She's basically there to spy–and convert women into the Church," Chung says. "It's a very threatening environment, and she finds her power by following Jesus's teachings."
Adam Levy
Hails From England
Where You've Seen Him Before Gladiator and the HBO series Rome
He Plays Peter, the humble fisherman from Galilee who was handpicked by Jesus to lead the disciples and protect them from capture by reigning political powerhouses Caiaphas and Pilate. "It's a huge undertaking for an illiterate working man," says Levy.
Ye Gotta Have Faith Although Peter initially struggles to understand why he was chosen for such a lofty role, his ability to speak directly to God–oh yeah, and work miracles–helps him rise to the occasion. "When he starts to find his voice, Peter becomes a great leader," Levy says. "Three thousand people converted on the spot during one of his speeches!"
Babou Alieu Ceesay
Hails From Gambia
Where You've Seen Him Before The British films Severance and '71
He Plays John, "the beloved disciple," right hand to Peter. "John's earned his title because of his kindness, forgiveness, and humility," Ceesay says.
Ye Gotta Have Faith As the only disciple to actually witness the Crucifixion, John has added incentive to preach the good word. "Seeing Jesus suffer left an everlasting mark on him," Ceesay says. "On one level, it created a great stillness in him. On another, he was risking his life by being there–so he has surrendered himself to whatever fate the Lord has in mind, and that will become apparent at critical moments."
Richard Coyle
Hails From England
Where You've Seen Him Before The British series Coupling
He Plays Caiaphas, high priest of the Temple of Jerusalem, chief defender of the Jewish nation–and who is depicted as the mastermind behind Jesus's execution. "Caiaphas is in a pope-like position of immense power," Coyle says. "He's a man of faith, ego, cunning, and impulse."
Ye Gotta Have Faith "Being a religious man in politics is something that Caiaphas doesn't always handle well," says Coyle. "As Jerusalem descends into chaos in the days and months after the Crucifixion, Caiaphas's psyche descends along with it."
Vincent Regan
Hails From Wales
Where You've Seen Him Before E!'s The Royals and 300
He Plays Pilate, the ambitious, paranoid Roman governor who was persuaded by Caiaphas to order the death of Jesus. Now he's determined to shut down further threats posed by Christianity. "He has climbed so high politically that he'll do whatever is necessary to maintain his position," says Regan.
Ye Gotta Have Faith Keeping the status quo will be risky business. "Due to heightened security fears, Pilate rarely ventures out of his palace confines," Regan says. Too bad for him, then, that danger lurks in his own bed: His wife, Claudia (Joanne Whalley), is having recurring dreams about JC. "She's Pilate's biggest ally and his biggest adversary," says Regan. "He's deeply in her thrall."
Emmett J. Scanlan
Hails From Ireland
Where You've Seen Him Before Guardians of the Galaxy and Charlie Casanova
He Plays Saul, a zealous advocate for the old Jewish Temple laws and traditions of the Torah–that is, initially. "He starts his journey trying to put down and belittle the followers of Jesus," Scanlan says. "When that doesn't work, he uses force and violence."
Ye Gotta Have Faith While on the road to Damascus, Saul has an eye-opening experience that turns him into a believer of Christ. Once he's seen the proverbial light, he channels his considerable fervor toward his newfound religion. "He feels the word of God must be heard," Scanlan says, "and he'll destroy anyone who gets in his way."