Kelly Clarkson Says She's Definitely Going to Win 'The Voice' Season 14
More than 15 years after Kelly Clarkson won the inaugural season of American Idol, the singer is stepping back into the reality television world full-time as a coach on NBC's The Voice. Clarkson, who has three Grammy Awards and sold more than 25 million albums, shares why she's going head-to-head with Adam Levine, Blake Shelton and Alicia Keys—and how she plans to beat them.
Why join The Voice?
I've never shied away from singing shows—obviously, I'm from one! I've always loved auditions. Before The Voice started airing, my management company was talking about the blind part of the concept [in which the coaches only hear contestants' first auditions; they turn their chairs around if they like the singer]. I thought it was amazing. It's an exciting show, and it fits for our family, since my husband [Brandon Blackstock] manages Blake Shelton. They've been wanting me to be a part of it for years, but I've been pregnant.
How do you approach coaching?
Being on the show brings back memories of how I tried to navigate the competition when I was on Idol. Everybody thinks it's just about having the greatest voice, and it's not—it's also about knowing when to do a big song and when to hold one back. I always tell my team that a lot is about strategy. That's why I may be a helpful coach in a different way than the others, outside of [last season's coach and another Idol alum] Jennifer Hudson, obviously.
Do you tout your Idol victory when trying to woo contestants?
I'm dropping it left and right! [Laughs] The others have already won The Voice as a coach. I know I haven't won this show, but I've won a show. There is something different in coaching someone to a win versus doing it yourself. It's harder than I thought. This season introduces a new element to the blind auditions: the block. Each coach has one block they can use to prevent another coach from competing for a singer.
How is that shaking up the teams?
People assume we're one thing based on our musical style. Now Alicia could block one of us trying to get a country singer; I could block her and try to get someone soulful. That helped. It created a whole different dynamic.
Do you have an ideal team lineup?
I'm looking for whatever hits me emotionally. I definitely love emotional singers more than perfect singers. My team is all over the place in age, race, style.
I know it's early in the competition, but do you think you'll win?
It can be early all day long, and I still think I'm going to win! [Laughs] I believe I have a really good chance, man. My team is an eclectic version of Adam's, Alicia's and Blake's teams. There's a girl on my team who reminds me a lot of myself. She's done everything genre-wise. We sound nothing alike, but she has a really cool voice you can do a lot of things with. I feel like I'm going to be a really good coach for her. I have a few singers where I'm like, "If you don't make it on this show, I'd love for you to work on my tour."
Idol is returning in March. What are your thoughts on that coming back, especially as you're having your first season on The Voice?
I'm a fan of this kind of talent being seen on TV. I'm not a person who has to beat something down to make sure my thing looks good. The coolest part about it is that [new talent scouting] doesn't really exist at a lot of labels, though it does at mine [Atlantic Records]. And TV is powerful. The fact that you can be in someone's living room to showcase and accomplish your dream—I think that's rad in any capacity.
Will you do another season of The Voice?
My husband and I were just talking about this. My current album, Meaning of Life, is my favorite album I've ever done, so I want to tour it worldwide. But I love the show. It's different for me, because it's like I'm paying it forward a bit. And I'm old enough to know I want to work with people I love to work with. I love everyone who works on The Voice. I definitely could see returning.
The Voice, Season 14 Premiere, Monday, Feb. 26, 8/7c, NBC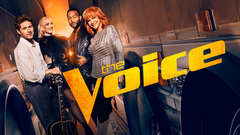 Powered by