'Absentia': Stana Katic Calls New Character the 'Antiheroine'
Stana Katic has a great laugh—a big guffaw, which starts with a half-hollered "a-HA" that oddly makes it more charming, especially early in the morning at Los Angeles International Airport, where being grumpy is usually forgiven. It's been 20 months since ABC unceremoniously canceled Castle, on which Katic spent eight seasons as Nathan Fillion's love interest/partner, NYPD detective Kate Beckett. Now the 39-year-old actress is happily headed to Toronto to promote her new Amazon series, Absentia, and bringing up its dark subject matter feels like spoiling the mood.
Katic plays Emily Byrne, a troubled FBI agent who is found in an abandoned cabin six years after she was supposedly executed by a serial killer. She's had the crap, and the memory, kicked out of her. Where has she been? Who was she with? And how dare her husband (Patrick Heusinger) remarry in the meantime? Emily's son calls another woman mom. Her dad is ill. Her brother drinks. On the barely bright side, her black Lab knows who she is. Then Emily's troubles double when she's accused of murdering the guy who was accused of murdering her.
Absentia is thrilling. It's bleak. It's kind of nuts—one scene required that Katic be "trapped" inside a glass water tank, Houdini-style. Yet, over the airport din, the actress chats with such excited smarts (besides being a beautiful former Bond girl, she speaks four languages) about the series, her career and her future that it totally makes sense to smile.
Do you consider this show your big comeback?
Sure? [Laughs] I guess I don't feel like I was gone that long, you know?
So what made you go, "OK, this is my next role?"
Emily is a survivor. Before taking the role, I'd been reading about people who managed to get through things as horrific as World War II and the Holocaust. The female stories especially intrigue me. I can't stop thinking to myself, "How did you do that?" Emily is also an antiheroine. People will love and root for her but also hate her.
She's hateful?
She does some things and makes some choices that viewers aren't going to like. She, herself, is a mystery in some parts of the season.
How'd you survive the, to put it nicely, physical demands?
Action seems to be part of nearly every role I've had in some way. However, this was three-and-a-half months of pretty consistent running, so it was definitely a little more high-velocity. It's also the first time I've had to eat out of a dog bowl. [Laughs] But, I thought, why half-ass it?
Have your parents or siblings seen those bits?
No, they haven't watched any of it yet. I don't know what it's going to be like, but I think it's going to be tough for them. But they are really proud of me at this stage in my career. They keep asking, "When's Absentia airing?" and emailing their friends and Facebooking everyone.
Were they supportive when you decided to pursue acting?
They had their concerns, of course. Luckily I made it work!
What was your fallback plan when you started acting?
I didn't have one! I didn't want to be anything else, but I did study international relations and pre-law, so I was prepped to go into the world of diplomacy or maybe corporate law.
Those both sound pretty solid. What do you consider the most important moment in your life?
For me, it's more like important things. In my personal life, it's important to be able to come home to a loving partner and a beautiful dog. In my career, I just have to constantly remind myself, "OK, wow, this is cool. Be grateful. It's an amazing thing to be able to play in the world of imagination and move people." And I know that sounds cliché, but there's truth in it.
With what attitude are you approaching your 40th birthday later this year?
I haven't really given it much thought. How do I feel? It's not something reflected as a big deal in anyone that I admire. I saw Charlize Theron do her thing at 40 and I thought, "Wow, you are exquisite." It didn't appear to be a shifting experience for her. Turning 40 feels like something that's supposed to be a milestone, but I'm barely aware of it. Then again, you're the first one to ask me.
Absentia, Available Friday, Feb. 2, Amazon Prime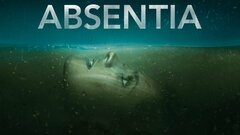 Powered by