'Mr. Robot' Creator Reveals Season 2 Details About What's Next for Elliot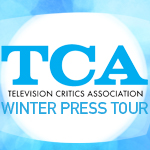 Spoiler alert! Stop reading if you haven't seen the entire first season of Mr. Robot.
The hack is back.
Fresh off of their Golden Globe win for Best Television Drama, the cast and creator of USA's breakout hit Mr. Robot gathered at the Television Critics Association press tour on Thursday to tease details about Season 2. The technological thriller stars Rami Malek as Elliot Alderson, a security engineer who gets pulled into an underground hacking group run by the enigmatic "Mr. Robot" (Christian Slater). In the first season's big twist, Elliot discovers that Mr. Robot is not real, and is in fact Elliot's own manifestation of his dead father.
"This whole show has been about Elliot's emotional journey, so Season 2 is about how Elliot reconciles the fact that he's seeing this fantasy," said creator Sam Esmail. "It's going to be about Elliot really negotiating with himself since that's a tough pill to swallow."
Malek admitted preparations for Season 2 are "already giving me anxiety" because of the nuances he explores within his character. "I can't just walk into the next season and take off right where we left off because that's not the way I work," Malek says. "There's a lot of preparation for me wrapping my head around someone and trying to figure out what's going on in his brain. That's a lot of work."
While the relationship between Elliot and Mr. Robot will be the central focus of Season 2, Esmail said Elliot's connections with sister Darlene (Carly Caikin) and coworker Angela (Portia Doubleday) will also be explored. "There will be a lot more backstory that will be shown," Esmail confirmed. "The timeline is going to get a little clearer."
Esmail also teased the return of B.D. Wong as the mysterious hacker White Rose. "He was so amazing in the first season, I would be stupid not to use him more this season," Esmail said. "But I do have to use him sparingly because he's got such a great mystery around him."