'The X-Files' Episode 4: Mulder and Scully Plan Date Night—With a Twist (VIDEO)
Things are askew in this week's episode of The X-Files… even more so than usual.
In "The Lost Art Of Forehead Sweat," Mulder (David Duchovny) and Scully (Gillian Anderson) find themselves wrapped up in a case that has ties to the Mandela Effect—the idea that a large group of people has alternate, slightly skewed memories—and it's affecting their personal and professional lives.
The hour, penned by X-Files vet Darin Morgan, is delightfully weird. (Duchovny recently called his episodes "a wonderful challenge.") In an exclusive clip below, Scully tells Mulder about her childhood love of Goop-O A-B-C (a similar dessert to Jello 1-2-3) and her decades-long search for it. That came to an end when Reggie Something (Brian Huskey) handed her a box.
See Also
Where is their missing son?
But Scully isn't the only one Reggie had insight into—he knew about a Twilight Zone memory of Mulder's, which could also potentially be linked to the Mandela Effect.
Mulder has a solution to get them answers: a meet-up with the mystery man (using his taped-X-in-the-window signal). "But that's your secret rendezvous signal," Scully points out. "I don't want to intrude."
"He clearly wants you involved, Scully," Mulder replies. "Come on: it'll be like a date."
Who needs dinner by candlelight? Check out the exclusive clip below:
The X-Files, Wednesdays, 8/7c, Fox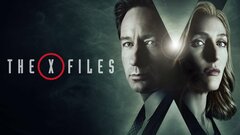 Powered by