'Gold Rush: White Water'—The Dakota Boys Prove They're Crazier Than Ever in Discovery's Spinoff Series
Whether you loved them or hated them on earlier seasons of Gold Rush, you won't be able to turn away from the Dakota Boys' latest mining venture in Gold Rush: White Water, premiering Friday. The father-and-son mining team—Fred and Dustin Hurt—admittedly know what they are doing is beyond extreme as they put together a team of diverse divers, mountaineers and bush mechanics to extract gold from raging rapids in a remote canyon in Alaska.
"It is one of the most impossible mining operations you could ever imagine," Fred tells us. "Just getting there was absolutely excruciating."
See Also
The hit Discovery Channel show featuring Paul Teutul Sr. and Paul Teutul Jr. is set to return in winter 2018.
In a chat with TV Insider, Fred Hurt shared why health is more important than family, how Gold Rush: White Water is actually "real" reality TV, and more.
How, after working for Todd Hoffman for several seasons on Gold Rush, the Dakota Boys got Discovery Channel to give them their own show:
Fred Hurt: Dustin had this idea. He wanted to go up there [to the canyon]. He had some claims there, and so we decided we'd go see what we could find. That's basically how it evolved, and we worked on it a little bit, and then Discovery said, "Man, you guys are doing something pretty interesting here. We'd better follow you."
On being over 70 and mining in extreme terrains:
The year before, they were taking us over by the waterfall, and of all things they didn't want ME to go down there because they didn't think I could do it. What's wrong with these people? They don't know me! I always have people ask me a question: "Fred, what is the most important thing in the world?' And I've said, "Well … " And they said, "It's gotta be family and friends," and I said, "No, it's not."
Of course, they're very shocked by that, and I always say, "No, it's good health." Good health, because then you can enjoy all the rest of the good things that life has got to offer. So, I have been blessed with good health. Been busy, I worked hard all my life, so I'm no stranger to hard work. I was never a mountain climber, though, but I sure became one.
How extreme is "extreme"?
It's not for the faint of heart. I mean, you're looking down at 250 feet straight down. These are cliff walls. The walls on the sides of Porcupine Creek that we're crossing, and where we're working, are vertical. I mean, they're 200 or 300 feet straight up, and when you go over that edge out there, hanging by a couple of little straps [editor's note: they need to zipline across the canyon to even get there], it's a little bit of a pucker moment, and we saw that fright in the eyes of some of the guys for the first time they ever went across that thing. We had to do this twice a day for the entire season.
What you see is what actually happened:
We were not in the business of re-creating things. This, we caught it as it happened. I would just have to say that some of the show will make you cringe. The seriousness of it, the levity of it, the interaction between Dustin and I and the crew and whatever. But fathers and sons, mothers and daughters, brothers and sisters—they don't always get along in life, and this is a lot of what you will see in this show. The dynamics amongst the crew and some of it's gonna be tough to watch, but this is the way real life is.
Gold Rush: White Water, Fridays, 10/9c beginning Jan. 19, Discovery Channel
New episodes of Gold Rush, Fridays, 9/8c, Discovery Channel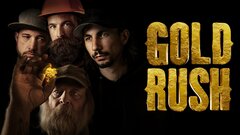 Powered by
Powered by