'American Chopper' to Return in 2018
Almost six years after American Chopper closed up shop, Discovery Channel is bringing the Teutuls back to television.

The network announced Wednesday the return of American Chopper to its lineup in winter 2018. "American Chopper was one of Discovery's most popular series ever," said Rich Ross, Group President of Discovery, Animal Planet and Science, in a statement. "Everyone is eager to see what the Teutul family has been up to. This winter, you'll find out."
Father-son duo Paul Teutul Sr. and Paul Teutul Jr. will once again allow cameras into their lives as they each try to churn out some of the world's most sought-after custom motorcycles—Paul Sr. at Orange County Choppers and Paul Jr. at his own establishment, Paul Jr. Designs. A lot has changed for the Teutul men since the series originally aired. Will they be able to mend their fractured relationship?
American Chopper ran for six seasons on Discovery from 2003 until 2010. At its peak, American Chopper was the network's highest-rated original series.
American Chopper, Winter 2018, Discovery Channel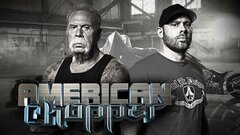 Powered by