Why 'Colony' Is 'a David and Goliath' Story of Fighting the Impossible (VIDEO)
https://player.waywire.com/?id=DKMQG312YH7Z19KF
In the not-too-distant future, Los Angeles becomes occupied, leaving its residents with the choice to either collaborate or resist new forces. USA's new series, Colony, follows a family who must protect each other while also trying to survive the invasion.
Will Bowman (Josh Holloway, Lost) is a former FBI agent who must consider teaming up with Proxy Snyder (Peter Jacobson, House), a powerful and antagonistic government leader looking to use Will's skills within the occupational government. In exchange, he may get the chance to reunite with a long-lost son who disappeared when a wall was erected in the city. Despite the tempting offer, Will's wife, Katie (Sarah Wayne Callies, The Walking Dead), is against it, but both parents are also willing do anything to bring their son safely back home.
RELATED: How Similar is Colony to Lost and The Walking Dead?
Speaking about the show, Holloway says "it's an old human story…colonization is something we've done to each other throughout history." Adds Callies, "it also becomes, in a way, a David and Goliath" where people who are not fighters are "standing up and going, 'I have to do something.'"
Watch the video above to hear the actors talk more about their characters and who they think the occupiers may be.
---
Questions? Ask Critic Matt Roush!
TV critic (and occasional TV therapist) Matt Roush answers viewer questions and concerns in his Ask Matt column each week. Wondering about plots, characters and twists on your fave shows? Submit your query to Matt via the form below: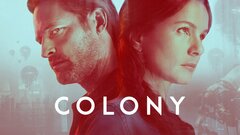 Colony
where to stream
Powered by