Discovery Back in the Brutal Employment Business, Orders New Series 'Deadliest Job Interview'
The network that brought you Dirty Jobs and Deadliest Catch has more dangerous careers on tap.
Discovery Channel has picked up the series Deadliest Job Interview, which follows rookies as they attempt to land a gig in one of the world's eight most dangerous careers. The show premieres Friday, Jan. 29 at 10/9c.
RELATED: Deadliest Catch Spinoff Coming Soon
The six-episode series includes "arborists climbing 200 feet high in the Redwood Forest, acrobatic bush pilots in the savanna of South Africa, extreme heavy haul truckers through America's heartland, iron erectors hundreds of feet up in the air, construction divers underwater in the depths of the Pacific, volcanologists climbing to the top of the explosive Stromboli, and wind turbine technicians in some of the windiest conditions on Earth."
The show follows the rookies—a.k.a. "greenhorns"—as they learn the job as a grunt, and learn life-or-death on-the-job training.
Sharp Entertainment produces the show for Discovery; Matt Sharp, Dan Adler, Johnny Petillo, Joseph Schneier and Mitchell Rosenbaum are executive producers.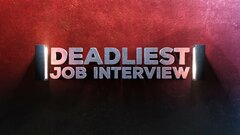 Powered by