'Cocaine Godmother': Catherine Zeta-Jones Spills on Playing Griselda Blanco
What does it take to break the glass ceiling? For Griselda Blanco—who rose to the top of the male-dominated drug-trafficking industry in the '70s and '80s—the answer is ruthlessness, ingenuity and a whole lot of bloodshed. Academy Award winner Catherine Zeta-Jones (Chicago) portrays the larger-than-life crime boss in Lifetime's new biopic Cocaine Godmother, which documents Blanco's violent rule over the Miami underworld, fractured family relations and descent into addiction. (She was eventually deported to her native Colombia, where she lived until her assassination in 2012 at the age of 69.) Zeta-Jones explains why the story has her hooked.
See Also
The real-life figure reportedly killed her second husband.
Blanco was hugely powerful, and yet she's not on many people's radar. How much did you know about her prior to this?
I first found out about her from the documentary Cocaine Cowboys. She was featured very little, but the way she was talked about—revered and feared by some really badass guys in a very dark world—made me think, "Who is this woman?" I spent four years trying to get this movie made!
Blanco is morally reprehensible. Could you relate to her on any level?
As a person, do I hate her? Yes. She killed so many people. She named her dog Hitler! But I loved playing her. People keep saying, "This isn't a character that comes to mind when I think of you," and I'm like, "Well, no s–t! That's why I wanted to do it." Being this stripped-down was a breath of fresh air. There's nothing more intimidating than getting cast in a role and on the first page, your character is described as drop-dead gorgeous. You go, "Awww!"
Lifetime movies are typically aimed at women. Are you hoping to attract a male audience as well?
All I know is, there are guys out there who have this pre-programmed idea of women as nurturers and caretakers, but not all women are like that. Griselda Blanco was a real woman. Men should watch this just to find out how the other half lives.
Cocaine Godmother: The Griselda Blanco Story, Premieres, Saturday, Jan. 20, 8/7c, Lifetime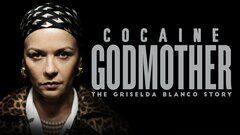 Powered by