New NBC Drama 'Rise' Isn't Just About the Singing
We won't dance around the bush. The new drama Rise, from Friday Night Lights producer Jason Katims, is a lot like its predecessor. The series is set in a working-class town—albeit in the North, not South—where football rules. The star player (Damon J. Gillespie) is a key character. The hero, English teacher Lou Mazzuchelli (Josh Radnor), is basically FNL's Coach (Kyle Chandler) in tweed.
Except that Lou's focus is the drama club, which he wrests control of from a more qualified colleague (Rosie Perez) in the pilot. He soon announces plans to put on the controversial coming-of-age musical Spring Awakening, causing a conflict between town and gown. "Lou wants risk," Radnor says, "and he has a taste for more challenging, cutting-edge musicals."
See Also
NBC executives talked about how the rebooted 'Will & Grace' will deal with the original series' finale, and the network's new initiative to seek female directors, among other topics.
That's where Rise truly stands out: It's got tunes. The show, which Katims executive produces with Hamilton producer Jeffrey Seller (and Flody Suarez) inspired by the nonfiction book Drama High, isn't a musical per se. No one's warbling during PE. But there is lots of singing and dancing, mostly as the teens rehearse (Moana star Auli'i Cravalho is another of Rise's leads). Just don't expect Radnor to be among those warblers. "You hear me sing for a brief second in the pilot," he says. "But the bulk of it is for the kids to do."
Rise, Series Premiere, Tuesday, March 13, 10/9c, NBC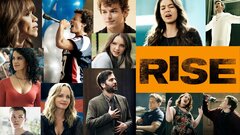 Powered by