My Obsessions: 'Agents of S.H.I.E.L.D.'s Ming-Na Wen Admits Which TV Shows Make Her Laugh, Cry
Marvel's Agents of S.H.I.E.L.D.'s Ming-Na Wen tells all about her dream costar and TV guilty pleasure.
My current favorite show:
I am obsessed with This Is Us. I cry over every episode. It also takes place in my hometown of Pittsburgh.
The show I miss the most:
Breaking Bad. It's one of the few shows that my husband and I streamed together. I miss those characters.
The funniest person on TV:
James Corden. His "Carpool Karaoke" is the best!
The show that always makes me laugh:
Will & Grace. It did in the '90s, and it still makes me laugh out loud today.
My guilty-pleasure show:
Flipping Out. It's a design show with lots of drama.
What I eat while watching:
Raisins. Weird, right?
My dream costar:
I've heard amazing things about Dwayne Johnson. He has such positivity and energy. I think it would be fun to work with him.
The last thing I watch before I go to bed:
This game on my iPhone called Wooden Block Puzzle. Once you start, you can't stop.
Marvel's Agents of S.H.I.E.L.D. Fridays, 8/7c, ABC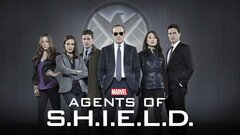 Powered by