Christina Ricci, Judith Light to Star in Lifetime Thriller 'Nellie Bly'
Lifetime has a new original movie project in the works. The network has greenlit the psychological thriller Nellie Bly (working title), and cast Christina Ricci in the lead role as Elizabeth Cochran Seaman, a real-life 19th-century journalist who went undercover in a woman's mental asylum.
Seaman published her astonishing findings at the Women's Lunatic Asylum on New York's Blackwell's island under the name Nellie Bly.
Judith Light is set to star as Matron Grady, who was the head nurse at the institution and tortured her patients. Revenge's Josh Bowman will play Dr. Josiah.
See Also
What will the fan favorite Pfeffermans get into next?
Lifetime released the official synopsis of the movie, which is currently in production. It reads: "On a mission to expose the deplorable conditions and mistreatment of patients at the notorious Women's Lunatic Asylum, investigative reporter Nellie Bly (Ricci) feigns mental illness in order to be institutionalized to report from the inside. The movie delivers an intense and fictionalized account of actual events surrounding Nellie's stay beginning after Nellie has undergone treatment, leaving her with no recollection of how she came to the asylum or her real identity. Nellie's unwillingness to submit to authority results in unspeakable torture at the hands of the head nurse, Matron Grady (Light).
"When Nellie captures the attention of Dr. Josiah (Bowman) who tries to help her, Grady's barbaric tactics only intensify, leading Nellie to questions if she actually does belong in the asylum after all."
Nellie Bly, 2018, Lifetime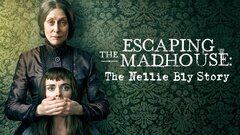 Powered by