'The Goldbergs' First Look Photo: 'Tis the Season for a…Menorah Sweater?
The holidays are all about seeing which family can have the best Hanukkah, right? On the upcoming Dec. 13 episode of ABC's The Goldbergs, "We Didn't Start the Fire," the answer is yes.
What sparks the competition is when Erica (Hayley Orrantia) tells Beverly (Wendi McLendon-Covey) that she's going to spend the first night of the Jewish holiday with her boyfriend, Geoff (Sam Lerner), and his family instead of with her own family. So, of course, Beverly has to one-up The Schwartz family to prove to Erica that The Goldbergs is where it's at for the first night of the blessed holiday. Could Beverly's menorah sweater bring The Goldbergs push this competition over the edge
Check out an exclusive look at Beverly's outfit above to see for yourself!
See Also
Behold, the genre's MVPs!
Besides Barry (Troy Gentile) seeking advice from Pops (George Segal) on entering a school talent competition, fans of the show will also note in this episode that Geoff and the actor playing his father look alike in a big way. Yes, Sam Lerner's father, character actor Ken Lerner, is playing Dr. Schwartz (see photo above again). Mindy Sterling (from the Austin Powers movies) is also playing Mrs. Schwartz in the episode. Bring on the dreidel!
The Goldbergs,Wednesdays, 8/7c, ABC. The "We Didn't Start the Fire" episode airs Dec. 13.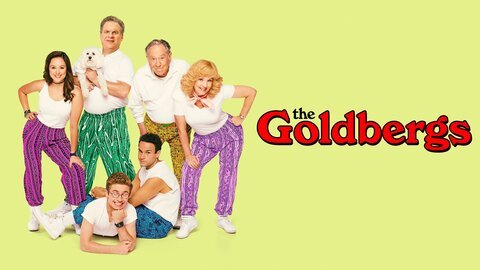 Powered by