'Lethal Weapon': Why Does Leo Getz Love Murtaugh and Riggs So Much?
[Spoiler Alert: This article contains spoilers for "Let It Ride," the Nov. 7 episode of Lethal Weapon.]
For Riggs (Clayne Crawford) and Murtaugh (Damon Wayans), having Leo Getz (Thomas Lennon) pop back up may be more of a pain in the neck. For viewers of Lethal Weapon, it's quite the opposite.
In Tuesday's episode, "Let It Ride," Getz returned and things, of course, got more and more complicated—including a few dead bodies and Getz's usual attempts to not only work with the detectives but to also become one of their BFFs. Through it all, though, Getz also has his good qualities, which were on display in this new episode.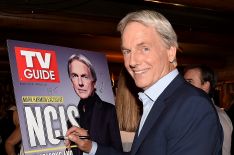 See Also
NCIS star Mark Harmon was joined by his co-stars and friends at the River Rock at Sportsmen's Lodge in Studio City, California, on Monday, November 6, 2017, to celebrate the show's 15 seasons on television and the actor's TV Guide Magazine cover. To catch Harmon's exclusive inter...
Lennon talked to TV Insider about the events we saw unfold in this week's episode and let us know if this is the last we've seen of Leo Getz, or if he'll be popping back up more sooner than later.
Why do you think Leo wants to be buddies and friends with Murtaugh and Riggs? They're not necessarily welcoming to him, but that doesn't stop him from trying.
Thomas Lennon: Leo fancies himself as a pretty major player and as an exquisite criminal mind, and he sees himself as the D.A. somewhere down the line. He likes being in the high-stakes robbery/homicide thing because they add some excitement to his life.
We also see Leo kind of affected by the death of his friend so he is human and thrown off his game a little bit.
I was really excited to get to give Leo's "grim specter of death" speech. It was also my pitch. I was like, "Wouldn't it be more embarrassing if Leo's in like loaner shorts from the police station?"
I actually noticed that. You got to show a little leg in the episode!
Yes, Leo was in a loaner sweatsuit, and I was like, "That's sad. But wouldn't it be sadder if it's a loaner sweatsuit with shorts and he still has his socks on?"
But this time around, Leo is involved firsthand in somebody dying!
Yeah, that's a gruesome scene. Most of that fight scene, other than the fall through the glass, it's basically all me. Which I only know because my neck hurt so bad for so long after that. Often when they're casting a guy like the guy that I had the fight scene with, he's a real stuntman of course. He's not an actor.
And he was huge!
Yeah, he's a massive guy, who was basically throwing me around a bathroom by my neck. But I really did love that scene. I promised myself I was gonna try to kick the paper towel holder off of the wall, which I was able to do. It was pretty exciting.
Do you have any input into Leo's clothing?
The wardrobe department is amazing. The one handkerchief that he has is my favorite prop/piece of wardrobe on the show. He's got a handkerchief that, depending on which way you fold it, it can look like it's like eight different colors. It's for a guy who's not gonna go home and has to go to three different events.
Leo also has some good advice for Murtaugh about Riggs, who has kind of gone off the rails a bit. It's a nice moment.
I like that, and that Leo—while being a little bit of a whack job—amidst his craziness, he's seen a lot of life and he's a sincere person underneath it all.
Does Leo realize that he leaves people unsettled since he's so awkward? Or is he unaware of that?
I think, if anything, he might think that people are a little intimidated by his sort of style and vast knowledge of the law. But, I don't think he's aware that he makes anybody uncomfortable. He must not be, because in this episode he specifically tells Murtaugh that he's gonna kiss him right there on his beautiful black head.
Safe to say you're game to come back whenever Lethal Weapon wants you back?
Not only that. I'm going in and shooting an all-night episode right now. I'm super psyched to be back.
Backing up, how have you gone about putting your own stamp on the role of Leo Getz since you first appeared last season?
This was a really daunting thing. As I headed into the first episode last year, where I was going to be playing Leo Getz, I actually didn't have any solid idea or plan as to what I was going to do. It was really distressing, and my first scene was a real quiet scene. I come in, I sneak into Roger's house, and he's talking to Trish (Keesha Sharp), and I say that I've made a sandwich. And I start blowing a mustard bottle so it starts whistling. The only plan I had was I'm just going to be myself. If something weird occurs to me, I'm going to say it. I let my subconscious drive the character a little bit.
Lethal Weapon, Tuesdays, 8/7c, Fox.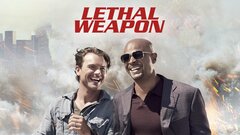 Powered by