'Grey's Anatomy' 300th Episode: Jason George Is Worried About Ben and Bailey (VIDEO)
If you think Grey's Anatomy is slowing down as it reaches its 300th episode milestone this Thursday, it's better to think the opposite, as one of our core relationships is about to hit a major bump in the road.
Jason George, who plays Ben Warren, is embarking on a new career path that sparked (excuse the pun) during the fire in the show's Season 13 finale. Ben found a different kind of rush charging into a fire and saving lives that he hasn't had in a long time while working at Grey Sloane. And, as he revealed to his male co-workers in last week's episode, he's taking steps to become a firefighter.
Now, for longtime fans of the show, how do you think Ben's wife, Bailey (Chandra Wilson), is going to take the news about Ben's new career trajectory, which would stop them from working side by side? As George told TV Insider when he stopped by our Los Angeles offices last week, there is cause for concern. "I don't know that the fear is unfounded," the actor said of the couple's future. "I would say that one of the things that I've always loved is that Ben and Bailey are one of the strongest couples on Grey's, but sometimes it doesn't matter how strong you are." Yikes!
How did George react when reading the upcoming scripts? Check out the video interview below for the answer:
Grey's Anatomy, Thursdays, 8/7c, ABC.
Grey's Anatomy's 300th episode, "Who Lives, Who Dies, Who Tells Your Story" airs Nov. 9 at 8/7c on ABC. Later that evening, ABC's Nightline will air an exclusive behind-the-scenes piece on Grey's with Michael Strahan.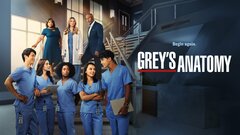 Powered by