Netflix's 'Godless' Puts a Female Spin on the Classic Western
Righteous lawmen, vicious villains, a hated rancher, a reformed prostitute and majestic landscapes of rolling hills. Yes, the new miniseries Godless, from executive producer Steven Soderbergh, has all the elements of a classic Western. That retro feel is exactly what the show's writer and director, Scott Frank (Out of Sight), had in mind when he wrote the period piece, set in the 19th century. "I wanted to include all the clichés, like wild horses and two men facing off in a field," he says, "and transcend them."
He succeeds—while also putting a refreshing female-centric spin on the typically macho genre. Inspired by the 1971 Warren Beatty and Julie Christie movie McCabe & Mrs. Miller and a news story about a mining disaster, Frank set much of the series in La Belle, New Mexico, an enclave populated by women whose husbands died in an accidental explosion. He says, "I thought a matriarchy in what was once a thriving town would be interesting."
At its center: twice-widowed rancher Alice Fletcher (Michelle Dockery), who lives just outside La Belle with her half–Native American son, Truckee (Samuel Marty), and her former mother-in-law (Tantoo Cardinal) after being shunned by a majority of the townsfolk. "She has been toughened by everything that's happened to her," says Dockery, who took shooting and horseback-riding lessons to prepare for the role. "Every time someone arrives at her ranch, she picks up her rifle."
She isn't afraid to fire it either. The family's seclusion ends when Alice shoots a trespasser, then takes him in. She discovers he's the notorious Roy Goode (Jack O'Connell), a gunslinger running from the law and ruthless gang leader Frank Griffin (Jeff Daniels), whose loot Roy swiped following a big robbery. Even after learning his identity, Alice continues to harbor the fugitive. "She needs him to break some untamed horses, he needs a place to hide out, and they both share a longing for a companion," Dockery says. "They're helping each other out."
See Also
'The Handmaid's Tale' took home eight Emmy Awards at the 2017 ceremony.
But Alice's actions inadvertently endanger the people of La Belle. In an effort to reclaim his stolen goods—and exact revenge—Griffin has slaughtered the residents of an entire nearby town where he thought Roy was hiding. Local sheriff Bill McNue (Scoot McNairy) hopes to nab Frank before the criminal wreaks more havoc, but is he up for the challenge? "Bill is viewed as a coward based on his reluctance to draw a pistol," McNairy says. "He's struggling to keep his pride in an unforgiving environment."
Those same harsh conditions have molded the women of Godless. In the man's world that was the wild, wild West, "they are empowered by necessity," says Frank. "And a lot of the story comes out of the freedom they've gained, even if men are constantly trying to take advantage of them." So when the inevitable shoot-'em-up gun battle arrives, expect to see some of the good guys wearing petticoats, not pants.
Godless, Series Premiere Wednesday, Nov. 22, Netflix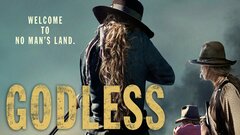 Godless
where to stream
Powered by