Starz Drama 'Counterpart' Gets Premiere Date, Unveils Thrilling Trailer (VIDEO)
What's better than having J.K. Simmons headline a new sci-fi drama series? How about two J.K. Simmons?
Starz announced a Jan. 21 premiere date for its new thriller Counterpart on Thursday, and teased viewers with an intriguing trailer about other worlds and doppelgängers.
Academy-Award winner Simmons plays two versions of the same character. In the premiere episode, we meet Howard Silk (Simmons), a lowly worker in a Berlin-based U.N. spy agency who doesn't even really know what his job actually is. Things take a turn when he discovers the organization he's worked for for many years protects a crossing into a parallel dimension. Enter Howard Silk (also played by Simmons) from the "other side" and is a much more confident, smooth and manipulative that our side's Howard. Suffice it to say, things get complicated real fast.
See Also
The actor says he jumped at the chance to work with Viola Davis.
The spy thriller, created by Justin Marks, has a 10-episode first season that will premiere on Sunday, January 21, 2018 at 8/7c on Starz. The cast also includes Olivia Williams (The Sixth Sense, Hyde Park on Hudson), Harry Lloyd (The Theory of Everything), Nicholas Pinnock (Captain America: The First Avenger), Nazanin Boniadi (Homeland), Sara Serraiocco (Salvo) and Ulrich Thomsen (The Blacklist, Banshee). Academy Award® nominee Morten Tyldum (The Imitation Game) directed the first episode.
Check out the trailer for Counterpart here:
Counterpart, Series Premiere, Jan. 21, 2018, 8/7c, Starz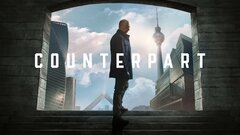 Powered by