Corey Feldman Details Plan to Expose Hollywood Pedophiles (VIDEO)
Corey Feldman is detailing his plan to expose Hollywood pedophiles in a new film.
The 46-year-old explained in an interview on Monday morning's Today why he wants $10 million to release the names of several alleged abusers in the movie.
"I believe there's a lot of darkness in Hollywood right now, and I believe it's been there for quite some time," Feldman said of recent allegations against producer Harvey Weinstein, who is accused of sexually abusing and harassing multiple women.
"It's going to continue unraveling," he predicted. "This is just the beginning, it's just the tip of the iceberg."

Feldman, who is known for the 1980s films The Goonies and The Lost Boys, said in a video Oct. 25 that he intends to shoot a movie about being sexually abused as a child actor. He claims he and late co-star Corey Haim were abused when they were teens.
Feldman is trying to raise $10 million through crowdfunding to finance his film, which will reportedly name six alleged abusers. He said the substantial sum will go toward distribution and a team to protect him from lawsuits.
"If I were to go to the police, I would be the one who's getting sued," the star said. "Henceforth, I need a team of lawyers, I need a team of security to be around me at all times to keep me safe so I can get this message done. I vow I will release every single name that I have any knowledge of, period."
Feldman said in his video announcing the project that the movie will be "the most honest and true depiction of child abuse ever portrayed." He also said the film will connect pedophilia to a major Hollywood studio.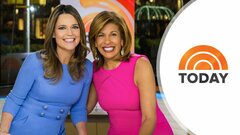 Today
where to stream
Powered by