'Floribama Shore' Takes MTV Back to the Beach
Cabs are here again! Jersey Shore creator/executive producer SallyAnn Salsano has teamed up with MTV once again to bring back gym, tan, and laundry in a new reality-party series, Floribama Shore.
The eight-episode first season is set to air in late November and will follow eight young adults as they live together, party, fight, and get their romance on while sharing a house in the hottest section of beach between Florida and Alabama: Panama City Beach.
"This coming of age story captures the very real thrill and angst of being young and trying to figure out the future with a group of people you'll come to call family," according to a release from the network.
The Floribama Shore cast includes:
Jeremiah Buoni: 22, Amelia Island, FL
Codi Butts: 25, Westminster, SC
Kortni Gilson: 21, Panama City Beach, FL
Aimee Hall: 24, Perdido, AL
Kirk Medas: 25, Atlanta, GA
Nilsa Prowant: 23, Panama City Beach, FL
Candace Rice: 24, Memphis, TN
Gus Smyrnios: 22, Tallahassee, FL
Watch the trailer below:
Floribama Shore, Series Premiere, Nov. 27, 10/9c, MTV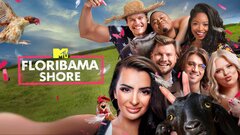 Powered by