Best Lines on TV This Week: 'Does It Ever Get Cold on the Moral High Ground?'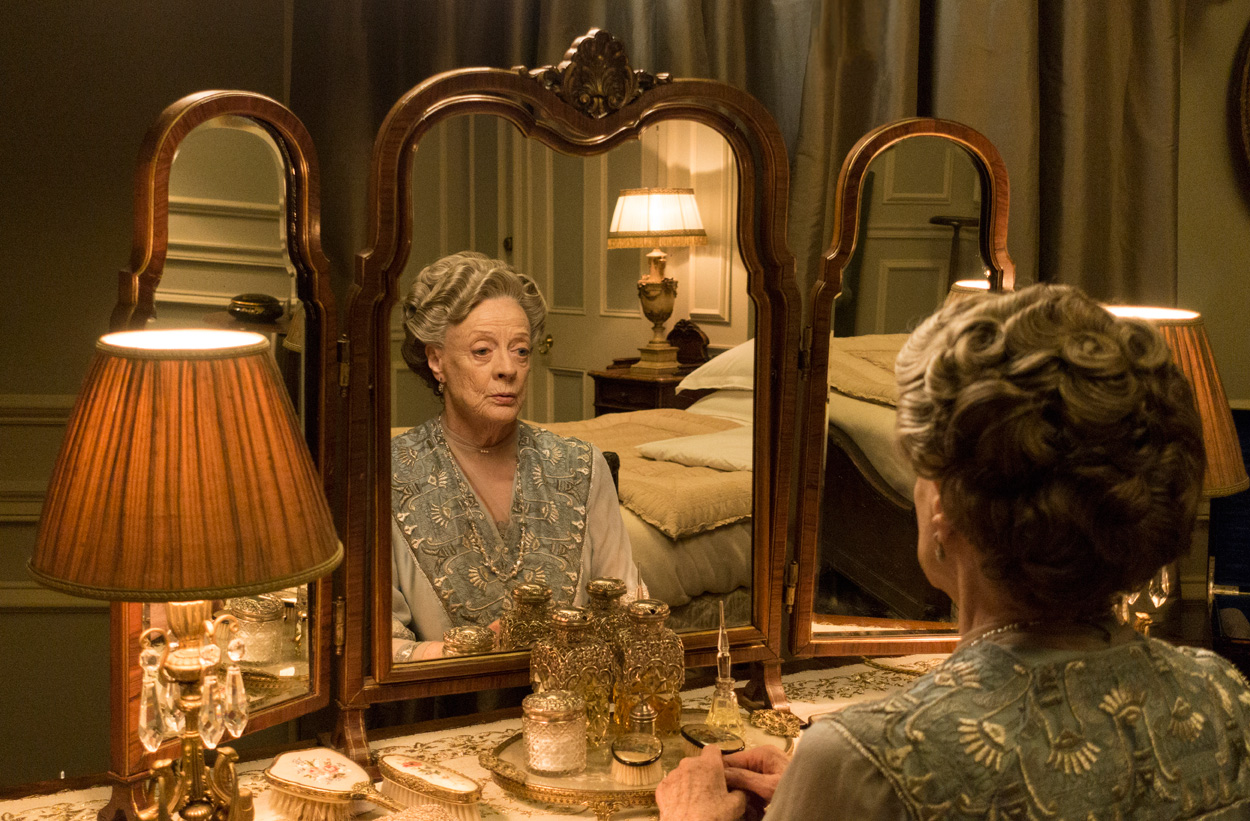 The best quips, quotes and quick bits of dialogue from this past week's shows.
Downton Abbey
"Does it ever get cold on the moral high ground?"
— Lady Violet (Maggie Smith) gets snarky about Isobel's (Penelope Wilton) moral standards
Mrs. Hughes: "I'm not sure I can let him see me as I am now."
Mrs. Patmore: "Perhaps you can keep the lights off."
Mrs. Hughes: "That is not helpful, Mrs. Patmore."
Mrs. Patmore: "Well, won't he feel the same? I mean, no-one's clapped eyes on him without his togs for years. Except the doctor."
— Mrs. Hughes (Phyllis Logan) and Mrs. Patmore (Lesley Nicol) wonder what Mr. Carson's (Jim Carter) bedroom expectations will be
Lady Mary: "You're not the first person who's tried to blackmail me."
Miss Bevan: "Well, I'm glad you know how it works."
— Lady Mary (Michelle Dockery) warns Miss Bevan (Rita Bevan) that she won't be easily bullied
Miss Denker: "Oh, dear. I do hope I haven't cast a shadow."
Mrs. Patmore: "What did you think you were doing? Sprinkling sunshine?"
— Miss Denker (Sue Johnston) tries to stir up trouble at Downton with rumors of staff reductions
"Tell her this, Mrs Patmore. That, in my eyes, she is beautiful ... You say she asks if I want a 'full' marriage...and the answer is...yes, I do. I want a real marriage, a true marriage, with everything that that involves...and I hope I do not ask the indelicate when I send you back to relay this message ... I love her, Mrs Patmore. I am happy and tickled and...bursting with pride that she would agree to be my wife. And I want us to live as closely as two people can, for the time that remains to us on earth."
— Mr. Carson's (Jim Carter) speech about his love for Mrs. Hughes proves he's a romantic at heart
"My darling Papa transformed into Machiavelli at a touch. Will wonders never cease?"
— Lady Mary shares her admiration for Lord Grantham's (Hugh Bonneville) counter-blackmail strategies
"I'd rather be alone than with the wrong man."
— Lady Mary reveals it's still not easy to replace her late husband, Matthew
"Mr Carson wouldn't be vulgar if they put him on a seaside postcard."
— Mrs. Patmore shares she was impressed with Mr. Carson's romantic speech about Mrs. Hughes
"I daresay Guy Fawkes regretted trying to blow up Parliament, m'lady, but he still had to pay the price."
— Mr. Carson is not impressed with Daisy's (Sophie McShera) revolutionary tendencies to speak up for the servants
RELATED: Read More Best Lines on TV
Sherlock (Victorian Special)
"Mrs. Hudson, there is a woman in my sitting room! Is it intentional?"
— Sherlock (Benedict Cumberbatch) reveals he's still not used to having female clients
Mary: "And am I just to sit here?"
Watson: "Not at all, my dear. We'll be hungry later."
— Watson (Martin Freeman) reveals he's a misogynistic man of his times to his wife, Mary (Amanda Abbington)
"Give her some lines or she's perfectly capable of starving us."
— Sherlock admonishes Watson to treat Mrs. Hudson (Una Stubbs) better in his stories
Galavant
"Honey, Galavant is gone. He was a tall drink of water, and I will keep him forever in my spank bank, but it's time to move on."
— Isabella's (Karen David) mom tries to get her daughter to move on
"Uh, it's been a tough year. I lost my wife, my best friend, my brother tried to kill me. I really just want to curl up in my room and eat like 1,000 pounds of cake and just let my people adore me."
— King Richard (Timothy Omundson) knows cake is the only viable plan to wallow
Limitless
"Oh, please. I've been single ever since I joined the Bureau. Do you think I haven't slept with anyone here? We're busy. How else are we supposed to meet people?"
— Naz (Mary Elizabeth Mastrantonio) divulges she's had a fling or two...or maybe more...at the FBI
The Expanse
"With our track record, we'll probably get Tycho blown to smithereens, too."
— Amos (Wes Chatham) reassures Holden (Steven Strait) that their plan to trust a questionable savior might not work out
Superstore
Glenn: "You don't know the first thing about babies. Do you even know how to swaddle?"
Dina: "I used to work part-time at chipotle. Same principle as a burrito."
— Glenn (Mark McKinney) and Dina (Lauren Ash) try to one-up their parenting knowledge
Cheyenne: "To get a sense of what our child's life would be like with you, what's your neighborhood like?"
Glenn: "Picket fences. Good schools."
Dina: "Are you familiar with a gang called Los Guapos? It's their turf, but, uh, we have an understanding. So I assume that would extend to my baby as well."
— Cheyenne's (Nicole Bloom) attempt to narrow down an adoption candidate yields some surprising (and slightly disturbing) answers
Brooklyn Nine-Nine
"I'm done with that playboy lifestyle... out till 11:00, drunk on sangria. I don't want that anymore. I just want to be a papa."
— Boyle's (Joe Lo Truglia) idea of the bachelor life may actually not be that ideal
Diaz: "I thought we were gonna to try to scare him."
Capt. Holt: "There's nothing scarier than the realities of the municipal court system. Now, come on; Let's get back in there and tell him about how bad the website is."
— Diaz (Stephanie Beatriz) and Capt. Holt (André Braugher) have very different ideas of what it means to scare a perp
"Oh, my wedding day. I should've known it was a mistake when she said, 'I suppose,' instead of, "I do.""
— Boyle realizes (years too late) that he missed all the warning signs for not marrying his ex-wife 
The Middle
"Angelina Jolie was never in a sorority, and she married Brad Pitt."
— Frankie (Patricia Heaton) tries to encourage Sue (Eden Sher)
Good talk, Frankie. Marriage is never the solution. 😂 https://t.co/DV21Aonaz6

— The Middle (@TheMiddle_ABC) January 8, 2016
People's Choice Awards 2016
From Ellen DeGeneres's acceptance speech for Favorite Humanitarian:
"It's a little strange to actually get an award for being nice and generous and kind, which is what we're all supposed to do with one another. That's the point of being human."
"I mean, would I call myself the Mother Teresa of Talk Shows, the Dalai Lama of Daytime? No. But I'm sure someone out there has."
The amazing @TheEllenShow accepts Favorite Humanitarian, presented by @Walgreens. #PCAs https://t.co/cOeNSkXhDb

— People's Choice (@peopleschoice) January 7, 2016
Telenovela
"You can always tell when a white guys like you, because he smiles so big, you can see his top and bottom teeth."
— Mimi (Diana Maria Riva) gives Ana Sofia (Eva Longoria) some insight into certain types of men
James: "I want to date the girl who leaves cheese puff prints on the back of my suit... and uses the wall to scratch your back and climbs out car windows instead of re-parking."
Ana Sofia: "You saw that?"
James: "I see everything. I told you... there's cameras everywhere."
— Network executive James McMahon (Zachary Levi) lets Ana know exactly the type of woman he's looking to date
The Shannara Chronicles
A great line from last night's premiere. Watch the first four episodes right here: https://t.co/tjvp9Lrjwp #Shannara pic.twitter.com/8YRPAoW8dA

— Shannara on MTV (@Shannara) January 6, 2016
Shades of Blue
"He shot twice?" "Yes." #ShadesofBlue pic.twitter.com/D5Ep0M0X3y

— Shades of Blue (@nbcshadesofblue) January 8, 2016
"I always told myself that the end would justify the means. But now that I'm at the end, I can't justify anything." #ShadesofBlue

— Shades of Blue (@nbcshadesofblue) January 8, 2016
New Girl
"As you can see from my preliminary vision board, our wedding will borrow equally from the holy trinity of Liz Taylor, Jackie O and The Power Gays."
— Schmidt (Max Greenfield) shows off his strategy for wedding planning
Read more at: http://transcripts.foreverdreaming.org/viewtopic.php?f=50&t=24483
"I never thought I'd fall for the slim, hip ghost of Tom Cruise." -Cece 😂 #NewGirl

— New Girl (@NewGirlonFOX) January 6, 2016
Life in Pieces
Joan: "So, tell me, how was your date?"
Gary: "Not good. She was so bored, she activated her Life Alert bracelet just so somebody would interrupt us."
— Gary Timpkins (Martin Mull) tells Joan (Dianne Wiest) why his date was a disaster
Matt's got the key to getting a date by Valentine's https://t.co/R8Kf970oXg #LifeInPieces #ProTip pic.twitter.com/VYjNHFrnoR

— Life In Pieces (@LifeInPiecesCBS) January 8, 2016
Supergirl
RT if you think Cat will stick to her New Year's resolution https://t.co/HJrkmijVHz #Supergirl pic.twitter.com/qpAUfSbdaR

— Supergirl (@supergirlcbs) January 5, 2016
black-ish
The Loneliest Perch. #blackish pic.twitter.com/zUrNpJ8D8M

— black-ish (@black_ishABC) January 7, 2016
Endangered species aside... #blackish pic.twitter.com/B0prZBr27e

— black-ish (@black_ishABC) January 7, 2016
Modern Family
Haley: "I'm planning on making some bad choices tonight, and I'm gonna need her on my side."
Alex: "I never realized the forethought that went into being a disappointment."
— Alex (Ariel Winter) gets a dig in at Haley's (Sarah Hyland) expense
Make a good choice tonight and watch a new #ModernFamily at 9|8c on ABC! https://t.co/4u9eogYa3G

— Modern Family (@ModernFam) January 6, 2016