Airport Nightmares Come True on Tonight's 'Life in Pieces' (VIDEO)
It is an inarguable fact that a delayed flight is the worst thing that can possibly happen to a human being.
So on tonight's Life in Pieces, we're really feeling for Jen (Zoe Lister-Jones). She and her husband Greg (Colin Hanks) have made the admirable decision to take separate flights so that, if one of them crashes, the other will still be alive to raise their baby. How sweet!
RELATED: Candid Snapshots of Life in Pieces (PHOTOS)
Unfortunately, Jen's flight is not going to be quite as timely as Greg's. Check out the clip to see why that's even worse than it sounds.
The episode was directed by Oscar winner Helen Hunt and also features guests Brenda Song (New Girl) and NFL Hall of Famer Marshall Faulk.
[jwplatform i4QlVw1u]
Tune in to Life in Pieces at 8:30/7:30c on CBS.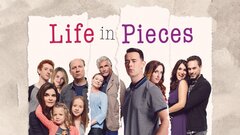 Powered by