'Brooklyn Nine-Nine': Captain Holt Explains Doing Things "The Hard Way" to a Perp (VIDEO)
Fox's Brooklyn Nine-Nine reports for duty on its new night and time, and Capt. Holt (André Braugher) rings in the New Year by laying down the law.
When Holt and Det. Rosa Diaz (Stephanie Beatriz) detain a suspect and need to extract information from him, the precinct captain gets a little too detailed in his description of "the hard way."
Meanwhile, Det. Charles Boyle (Jo Lo Truglio) runs into personal trouble of his own after his ex-wife, Eleanor (guest-star Kathryn Hahn), appears to derail his burgeoning relationship with new girlfriend, Genevieve (Mary Lynn Rajskub).
Check out the exclusive clip below, and catch the return of Brooklyn Nine-Nine on its new night, tonight at 9/8c on Fox.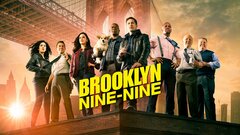 Powered by