'Shameless' Returns For Season 6 With Guns, God and Teenage Pregnancy
The writers at Shameless never run out of ways to keep the Gallagher family hopelessly dysfunctional—they just add more Gallaghers! When the Showtime hit returns January 10 for Season 6, it's revealed that teenager Debbie (Emma Kenney) has been knocked up by a high school pal who won't return her calls and then skips town. Older sis Fiona (Emmy Rossum) freaks out about the pregnancy and pushes for an abortion. But the mom-to-be is thrilled.
"Debbie is desperate to have a normal family," says writer/executive producer Nancy M. Pimental. "This is her way of dealing with the heartbreak and frustration of being a Gallagher. She's trying to push the reset button on her life." (Pssst! That's not the only baby news this season).
RELATED: Scoop on Other New and Returning Shows
In other family developments, Frank (William H. Macy) is mourning the death of his lover Bianca (Bojana Novakovic) and goes on a spiritual quest that finds him mixing it up with Jews, Muslims, Buddhists and Hindus (though drawing the line at Mormons!). But don't assume the pathetic patriarch—still drinking and drugging despite his new liver—is finally getting his act together.
"A narcissist is a narcissist," Pimental notes. "Frank thinks he's the only person on the planet to experience such pain and grief. He's just looking to draw more attention to himself." At least Dad does take a moment to be proud of his second youngest, Carl (Ethan Cutkosky), who was able to learn a trade during his stint in juvie. The kid is now selling illegal firearms and making a killing in the neighborhood! No Gallagher has ever gone this far off the rails.
"Carl is not supersmart," says Pimental. "He's repeated sixth grade several times. What are his options besides turning to crime? Suddenly he's the family breadwinner and he likes that he's pleasing Frank."
Fans of gay lovers Mickey (Noel Fisher) and Ian (Cameron Monaghan) better prepare for bad news: The duo kicks off the new season hopelessly estranged (Mickey is in the slammer) and it just gets worse from there. "Ian is searching and lost, not only when it comes to his love life but also with his purpose in life," Pimental says. "Who is he as a bipolar guy? We will go to some interesting places with him, maybe not where the fans of this couple want us to go but hopefully people will be happy and satisfied."
Jeez, does anything go right this season? Oh, hell yeah! The Gallagher clan's favorite hangout, The Alibi Room, is picked as the "Best Sh–tiest Bar" on the South Side of Chicago. Hey, on Shameless, that's a good thing!
Shameless, Season premiere, Sunday, Jan. 10, 9/8c, Showtime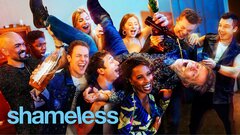 Powered by