How Shameless' Mickey and Ian Became TV's Wildest (and Sweetest) Couple
Can a hotheaded thug who runs a whorehouse on the South Side of Chicago find epic love with a bipolar go-go boy? Only on Shameless! We sat down with Noel Fisher and Cameron Monaghan, who play, respectively, pistol-packin' pimp Mickey Milkovich and his mentally unstable beau, Ian Gallagher, to dish about this endearing yet stormy romance and why it's such an outrageous hit with fans. Naturally, the talk turned to sex, drugs, and AK-47s.
How did Ian and Mickey, two subversive badasses, become such an adorable couple? You can even find their squish name, Gallavich, on T-shirts, caps, hoodies, and coffee mugs. It's so wrong, it's right!
Monaghan: We're like McDonald's now! How did this happen? It certainly wasn't intentional. [Laughs] We were trying hard to make everybody hate us. Now we're a hashtag.
Fisher: In a strange way, this is a universal relationship–but with a lot of blood. You can take the homosexuality out of the equation and it's still so relatable because it's about two people struggling to make their love work despite devastating odds.
Monaghan: They're tough, scrappy kids and whether they clash or come together, it's always with real passion. And real meaning. Shameless has definitely changed my own perceptions and how I interact with people. Now I empathize so much more with what others are going through. Sorry, I feel like I'm kissing my own ass!
Fisher: But it's true! This show, for all its f—ed-up dysfunction, really opens up your heart and mind.
Mickey just can't handle Ian's bipolar diagnosis, and soon he hits the bottle hard. Why does this so unnerve him?
Fisher: Mickey's a guy who solves problems for everyone–he can pound anybody or anything into submission–but he can do nothing about this bipolar thing. He's feeling helpless and can't sack up.
Monaghan: Nobody can fix Ian. It's up to him to accept his condition, take his meds, and deal with it, but he can't. So now they're both lost boys. You won't know if Gallavich is going to make it through the season.
Fisher: But who wants them happy? Who wants an episode where Gallavich wakes up and they make coffee? "Hey. There's no cream!" That's not exactly a cliffhanger.
Monaghan: Gallavich! [Laughs] We get $5 every time we say that.
The arc where Ian stole Mickey's baby and split town was way too disturbing–even for Shameless.
Monaghan: Imagine filming those scenes! Ian left the baby crying on the hood of the car while he's f—ing around in the trunk trying to find a diaper. And that was no CGI baby. Then I had to run with the kid in my arms, with two cops chasing me. It was all safely staged, and the baby's real mother was standing just 10 feet away, but it was the most terrifying moment of my life.
Was there an upside to the babynapping? Didn't it help Mickey realize he truly loves his son?
Fisher: Yeah. For so long, the kid was an anchor dragging him down.
Monaghan: Let's not dance around it. Mickey was essentially raped. His homophobe dad forced him to have sex with a Russian hooker–at gunpoint–and she ended up pregnant. So fatherhood, for Mickey, has always been a bittersweet thing.
Fisher: My character doesn't come from a family that watches one another's backs the way the Gallaghers do. In fact, we know very little about the Milkoviches, except that they're into some deep, dark s–t and own closets full of assault rifles.
Monaghan: I'm sure someone in that family is enriching uranium!
Fisher: The Gallaghers always step up. If Fiona is in prison, Lip takes over. But if Mickey went to prison, his sister, Mandy, would go weeks before she even noticed he was gone. And then she'd be, like, "Who gives a flyin' f—?"
Mickey's coming-out–which ended with a bar brawl and police intervention–was a classic moment. How happy were you when you got that script?
Fisher: Real happy for me, but even happier for Mickey. It was the perfect way for him to explode out of the closet. Mickey and Ian emerging from that fight all bloody and mangled was a beautiful, through-the-fire moment for them. The reaction from the audience was incredible. People were truly touched and elevated by it—especially the scene right afterwards in the bar where no one gives a s–t that Mickey's gay.
What if Mickey hadn't come out? Would their relationship have survived?
Monaghan: There was no choice. He had to come out. It was inevitable. We couldn't let the story stagnate.
Fisher: The writing on our show forces our characters to grow. There would be no more story to tell if Mickey had stayed in the closet.
What do fans say when they meet you on the street?
Monaghan: I get comments like, "Hey, you look a lot taller on TV." And I also get the opposite: "You look a lot smaller." [Laughs] I don't know which one's a compliment. I also get: "Hey, you're that guy from that thing!" And I'll say, "Why, yes I am!" And they're like, "Great!" and just walk away.
Fisher: Fans are always saying that what we do on Shameless reminds them of their own families, which is a little scary. But I guess, as people, we're just not that different. On the surface, maybe, but underneath we're all alike in crazy ways. Look how many people rooted for Tony Soprano and felt that they understood him.
Are you two just born exhibitionists, or does shooting all those sex scenes ever get uncomfortable?
Monaghan: Are you asking me if it's weird that millions watch me masturbate on the toilet each week in our opening credits? Yes.
Fisher: Not just you—it's a 12-year-old you! We're in Season 5 and they've yet to change the opening.
Monaghan: Listen, all teens do it. I'm not ashamed to say that—but, yeah, I cringe! I also love that our opening is set in the bathroom, which is where we're all at our most vulnerable. It speaks to the raunchy, uncomfortably personal tone of our show.
Noel, are you jealous you're not in the opening?
Fisher: Actually, I think Mickey is just off camera…watching everybody. He's such a perv.
Monaghan: And he's probably stashed a gun in the toilet, like in The Godfather!
Fisher: All sex scenes are kind of odd, but it makes it a lot easier being buddies with Cam.
Monaghan: And, hey, it's our job. Sexuality is a big part of our characters, so we have to shoot a lot of lewd, crazy s–t.
Fisher: The day after our show airs, I'll get texts and calls from friends going, "So, I saw a whole lotta you last night!"
Monaghan: But Noel and I give each other enough crap when we film that stuff that we're already prepared for public reaction. [Laughs] What we say to each other is a lot worse than anything anyone can ever say to us!
Shameless, Sundays, 9/8c, Showtime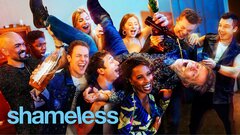 Powered by