'The Lost Wife of Robert Durst' Showcases the Couple's Tumultuous Relationship
Consider this an equally disturbing prequel. Long before real estate heir Robert Durst was caught on a hot microphone allegedly confessing to murder on HBO's acclaimed 2015 docuseries The Jinx, he was a young man in a turbulent marriage to med school student Kathleen "Kathie" McCormack Durst. Lifetime's new film, The Lost Wife of Robert Durst, showcases the tumultuous relationship between the pair (portrayed by Scorpion's Katharine McPhee and The Originals' Daniel Gillies, above)—and the investigation into Kathie's mysterious 1982 disappearance. We spoke with McPhee about diving into the still-unsolved case—and the unexpected Scorpion link.
See Also
Plus, 'Animal Kingdom' on TNT and 'Bizarre Foods' on the Food Network
What drew you to this project?
I watched The Jinx and was really curious about their relationship. I think the reason there was this lack of information publicly [about Kathie] is because there is a lack of information. There aren't audiotapes or videos of her. Her family has kept it private.
Did anything surprise you about their relationship?
I'm always surprised when things become so volatile. In the beginning [of the film], there is this real strong sense of love and romance. I was intrigued by what went wrong.
The story—as anyone who's seen The Jinx knows—gets pretty dark. How did you prepare for filming those parts?
Daniel and I had a week and a half of being together with the director [Yves Simoneau], going through the script. We talked very specifically about how we were going to do the violent scenes. Everything was planned. The most important aspect was handling when things start to go wrong in the relationship. Was she trying to get out of there, knowing how crazy he was?
Did the role change your perspective on what happened to Kathie?
I stand with most people who know about it: He murdered her. One of the writers on Scorpion, Kevin Hynes, used to be a district attorney and worked on this case. After I filmed this, he was able to share his theories. There are a lot of things about the case that people still don't know about.
The Lost Wife of Robert Durst, Movie Premiere, Saturday, Nov. 4, 8/7c, Lifetime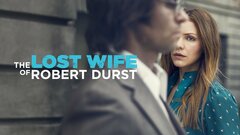 Powered by