'Marco Polo' Casting News: Michelle Yeoh Joins Season 2 in a New Role
Fans of the Chinese martial arts movie Crouching Tiger, Hidden Dragon will be happy to know that Michelle Yeoh has landed a kickass role on Marco Polo.
Yeoh will be part of the Netflix original series in a recurring role known as Hand Maiden, "a mysterious figure from Hundred Eyes' (Tom Wu) past," according to the press release. Added show creator John Fusco, "Her role in the second season is one that's going to add even more intrigue, mystery and Asian martial arts to our rich story world."
Marco Polo, with Lorenzo Richelmy in the title role, is a dramatized history of the famous Italian explorer's journey to 13th century China and his adventures in the court of Emperor Kublai Khan (Benedict Wong) and Empress Chabi (Joan Chen).
The actress is known for doing all her own martial arts stunts, and she wil be appearing in a sequel of sorts to Crouching Tiger, also released on Netflix, called Crouching Tiger, Hidden Dragon: Sword of Destiny.
Marco Polo will return in 2016 on Netflix.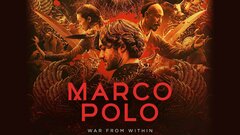 Powered by